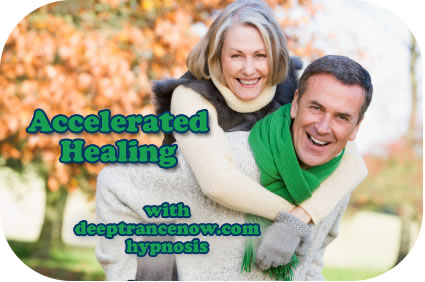 Accelerated healing program is not intended to replace any medical treatment you may be receiving, but rather to be used in conjunction with the treatment you may be receiving from your health care practitioner.
Some of the techniques used in Accelerated Healing hypnosis program are designed to completely erase the undesirable condition from your subconscious mind as if it never existed. While the effects of working with this program may be even miraculous, the true miracle is in your own mind and body, which are naturally designed for optimal health. Accelerated healing program can help you to bring out that perfect state of health into expression.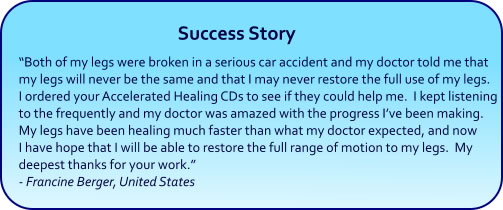 You can use Accelerated Healing recordings to alleviate any physical disorder you may be experiencing. For best results I recommend that you work with hypnosis recording at least once a day, and if you like you can have subliminal, supraliminal or supraliminal plus recordings playing in the background while you are doing other things throughout the day, or even throughout the night while you are sleeping.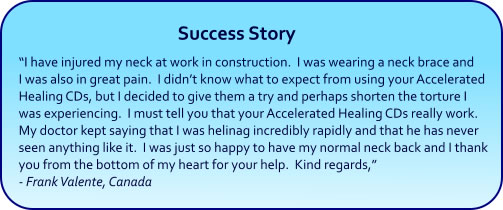 If you want CDs, click on "add to cart" button.
If you want Instant mp3 Downloads,
click on the blue Instant Download link.

Accelerated Healing
Deep Trance Now Hypnosis CDs and mp3 downloads
» Hypnosis Newsletter and Free Downloads