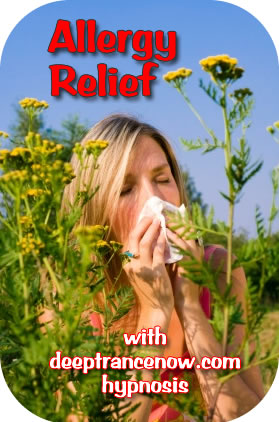 Allergy Symptoms
Allergy symptoms can range from highly irritating sneezing, runny nose and watery eyes, to nasal congestion, itchy or flaky skin, sore throat and post nasal drip.
Common allergies include: dust, dust mites, pollens like ambrosia, food allergies, cat allergies, chemical allergies.
Allergy Causes
Sometimes, there is no obvious reason why the allergic reaction started, while at other times, the allergic reaction may have emotional or psychological roots.
Some people develop allergic reaction by consuming too much of the same food, eating the same kind of food over prolonged period of time. Some may develop allergic reaction by eating bad or poisoned food. Some may developing allergic rection by being in contact with a harmless substance which became associated with an undesirable situation - mentally, physically, or emotionally.
Allergy, Stimulus Conditioning
and Your Subconscious Mind
If you have experienced an undesirable event, and the allergenic substance was present in the environment, you might have unconsciously associated the discomfort you felt from the unpleasant situations with the substance.
The allergenic substance could in this situation become a subconscious stimulus, eliciting allergic reaction as a warning signal to protect you from getting hurt yet again. Your subconscious mind always seeks to protect you, though not necessarily in the way you hoped.
For example, if a person who hurt you wore a perfume, that perfume could subconsciously set an allergic reaction - even though the perfume itself may be harmless.
A variation of the same scenario is if you eat food under conditions that are highly stressful or traumatic. People undergoing chemotherapy may develop allergic reaction to food eaten after receiving chemotherapy treatment.
The allergic reaction may be triggered byany of your senses - by something you see, hear, feel, smell, taste, or touch.
Allergy Relief with Subconscious Mind Programming
through Hypnosis, NLP and Affirmations

Allergy Relief hypnosis download or CD takes you through a NLP (Neuro-Linguistic Programming Technique) that will help you to change how your subconscious mind interprets the allergenic substance.
Allergy Relief Affirmations, Subliminal, Supraliminal, Supraliminal Plus downloads and CDs contain positive suggestions designed to help you to develop immunity to the allergenic substance.
While for some people allergy season means shutting the doors and windows and not opening them again until the first frost, you can now be free from allergies, enjoy perfect health and have fun outdoors.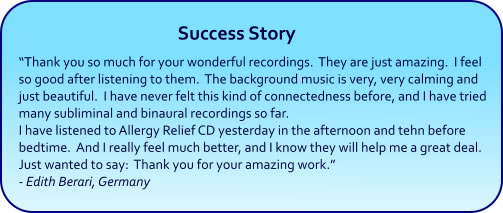 Allergy Relief
Deep Trance Now Hypnosis CDs and mp3 downloads
» Hypnosis Newsletter and Free Downloads
Allergy Relief Hypnosis Demo
If you want CDs, click on "add to cart" button.
If you want Instant mp3 Downloads,
click on the blue Instant Download link.