Arthritis can really hurt and make you feel miserable,
but you can find relief now...
Arthritis - Joint Inflammation
Arthritis is inflammation of one or more joints, which results in pain, swelling, stiffness and limited movements. There are over 100 different types of arthritis.
Some of the causes of join inflammation may be:
Broken Bone
Infection (usually caused by bacteria or viruses)
An autoimmune disease - the body attacks itself because the immune system believes a body part is foreign
General wear and tear on joints
Rheumatoid Arthritis
Rheumatoid arthritis is a relatively common disease of the joints. The lining of the joints becomes inflamed, and over time the inflammation may destroy joint tissues. The destruction of joint tissues may lead to disability. Women are affected twice as much as men and this condition often sets in between the ages of 40 and 60.
Stages of Rheumatoid Arthritis

Click here for larger image
Symptoms of Rheumatoid Arthritis
Painful, swollen, stiff joints
Morning stiffness or joint stiffness after long periods of sitting
Nodules ranging in size from a pea to a gumball that usually form over pressure points in the body (knuckles, lower leg bones, elbows, etc.)
Risk Factors
The causes of Rheumatoid Arthritis are not fully understood, but may be due to:
Immune system - the immune system of the person suffering from Rheumatoid arthritis mistakes the body's healthy tissue for a foreign invader and attacks it
Gender - women are affected twice as much as men
Genetics - a genetic abnormality may increase the risk of developing Rheumatoid arthritis
Treatment Options for Rheumatoid Arthritis
Rest and exercise
Joint Protection
Medications
Surgery
Deep Trance Now self-hypnosis
Proper nutrition

Healing mantras
Ostheoarthritis - Degenerative arthritis
Ostheoarthritis is a type of arthritis that is caused by the breakdown and eventual loss of the cartilage of one or more joints. Cartilage is a protein substance that serves as a "cushion" between the bones of the joints. Ostheoarthritis is also known as degenerative arthritis. Among the over 100 different types of arthritis conditions, ostheoarthritis is the most common.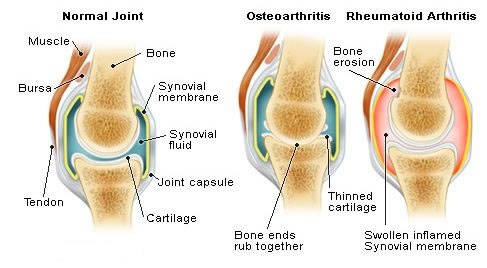 Symptoms of Ostheoarthritis
Pain in the affected joints after repetitive use
Swelling and creaking of the affected joints
Pain and stiffness may occur after long periods of inactivity
Joint pain in rainy weather
Reduced ability to move the joint
Risk Factors
The causes of Ostheoarthritis may be due to:
Being overweight
Previously injuring the affected joint
Using the affected joint in a repetitive action that puts stress on the joint
Gender - it is more common in women
Metabolic conditions
Chemical factors
Genetics
Treatment Options for Ostheoarthritis
Weight loss and exercise

Medication

Surgery

Hot and Cold Treatments
Deep Trance Now self-hypnosis
Optimal nutrition that blows arthritis away
Healing mantras for pain reduction and arthritis relief
It's true - YOU really can get rid of arthritis
in 3 months and here's how ...

Deep Trance Now Hypnosis CDs for Arthritis Relief guide you through hypnosis and NLP techniques that will help you to manage, reduce or eliminate pain, strengthen and maintain flexibility of the joints, boost your immune system, develop eating habits that support optimal health, as well as a Magic Eraser technique that will wipe out arthritis from your subconscious mind, from your memory and from your body.
Deep Trance Now Subliminal, Supraliminal and Supraliminal plus CDs will help you to boost the effects of your hypnosis sessions with positive suggestions that will further stimulate recovery from arthritis and freedom from arthritic pain, swellings, discomfort, stiffness and whole host of problems that are currently reducing your enjoyment of life.
Sanskrit Mantra CD for Arthritis Relief has been known to effect almost immediate pain relief in some people and you may be surprised what it can do for you!
Free Bonus Report will reveal to you the nutritional secrets - your doctor may not want you to know - that will help you to get rid of arthritis and start feeling and looking years younger.

Arthritis Relief
Deep Trance Now Hypnosis mp3 Downloads and CDs
» Hypnosis Newsletter and Free Downloads
If you want CDs, click on "add to cart" button.
If you want Instant mp3 Downloads,
click on the blue Instant Download link.

Arthritis Relief
Hypnosis
1 CD - $24.95
For INSTANT DOWNLOAD click here
Arthritis Relief
Hypnosis with Embedded Subliminal Track
1 CD - $29.95
Arthritis Relief
Hypnosis with Embedded Supraliminal Track
1 CD - $34.95
Arthritis Relief
Subliminal with Audible Intro Suggestions
1 CD - $14.95
For INSTANT DOWNLOAD click here
Arthritis Relief
Daytime Silent Subliminal
1 CD - $14.95
For INSTANT DOWNLOAD click here
Arthritis Relief
Nighttime Silent Subliminal Sleep Programming
1 CD - $14.95
For INSTANT DOWNLOAD click here
Arthritis Relief
Supraliminal with Audible Intro Suggestions
1 CD - $19.95
For INSTANT DOWNLOAD click here
Arthritis Relief
Daytime Silent Supraliminal
1 CD - $19.95
For INSTANT DOWNLOAD click here
Arthritis Relief
Nighttime Silent Supraliminal Sleep Programming
1 CD - $19.95
For INSTANT DOWNLOAD click here
Arthritis Relief
Empowering Affirmations
1 CD - $17.95
Arthritis Relief
Empowering Affirmations with Embedded Subliminal Track
1 CD - $22.95
Arthritis Relief
Empowering Affirmations with Embedded Subliminal and Supraliminal Tracks
1 CD - $27.95
Arthritis Relief
Supraliminal Plus
1 CD - $24.95
For INSTANT DOWNLOAD click here
Arthritis Relief
Sanskrit Mantras
1 CD - $24.95
Arthritis Relief
Hypnosis + Subliminal
2 CDs - $29.95
For INSTANT DOWNLOAD click here
Arthritis Relief
Hypnosis + Supraliminal
2 CDs - $34.95
For INSTANT DOWNLOAD click here
Arthritis Relief
Hypnosis + Supraliminal Plus
2 CDs - $39.95
For INSTANT DOWNLOAD click here
Arthritis Relief
Hypnosis + Subliminal + Supraliminal Plus
3 CDs - $49.95
For INSTANT DOWNLOAD click here
Arthritis Relief
Hypnosis + Supraliminal + Supraliminal Plus
3 CDs - $54.95
For INSTANT DOWNLOAD click here
Arthritis Relief
Hypnosis + Subliminal + Supraliminal + Supraliminal Plus
4 CDs - $64.95
Arthritis Relief
Hypnosis + Empowering Affirmations + Subliminal + Supraliminal + Supraliminal Plus
5 CDs - $79.95
Arthritis Relief
Hypnosis + Empowering Affirmations + Subliminal + Supraliminal + Supraliminal Plus + Sanskrit Mantras
6 CDs - $89.95