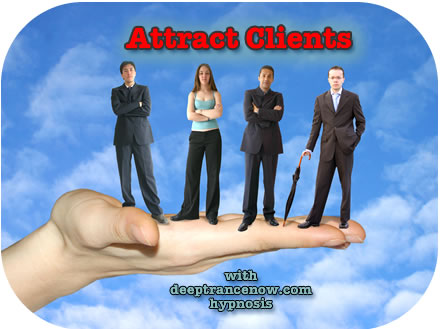 Attract Clients Hypnosis CD guides through remote hypnosis technique to help you attract your "ideal" clients to your business - calling to you those people whom you can serve in a mutually rewarding way.
You become irresistibly magnetic to your potential clients not by focusing on what they can give you, but on how your products and/or services can help them to solve their problems.

Attract Clients affirmations, subliminal, supraliminal and supraliminal plus CDs contain direct suggestions, which are designed to make you irresistibly magnetic to your clients.
For best results you may want to work with hypnosis as well at least one of subliminal, supraliminal and/or supraliminal plus CDs, listening to hypnosis CD once a day, and having other recordings play in the background throughout the day until you have as many clients as you can comfortably handle.

Attract Clients
Deep Trance Now Hypnosis CDs and mp3 downloads
The recordings on this page are self-improvement recordings intended for mentally healthy people who are able and willing to take responsibility for their lives. People who were treated for mental health problems or are suffering from mental health issues should consult with their health care provider before using these recordings.
» Hypnosis Newsletter and Free Downloads
If you want CDs, click on "add to cart" button.
If you want Instant Downloads,
click on the blue Instant Download link.

» You may also like other CDs from the Financial Wealth collection