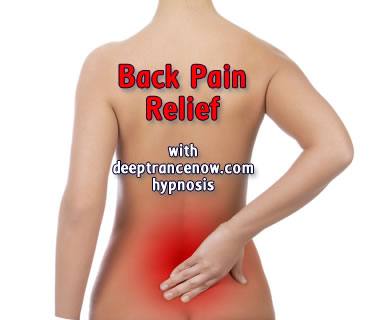 This set of CDs is designed to help you to obtain freedom from back pain by releasing all the tension stored in your back. It will help you the most if you do not have any physiological permanent damage, as the focus of these recordings is on relaxing the muscles in your back. If you feel stiff, it will help to stimulate the movement of energy in your back, thus reliaving back pain and enabling you to move and bend easily, effotlessly in pain free.
Freedom From Back Pain
Deep Trance Now Hypnosis Programs
» Click here to learn more about Different Types of Recordings
» Subscribe to Deep Trance Now Hypnosis Newsletter and listen to Free Downloads
» Click here for information about Mail Order, Shipping or ordering MP3 Downloads
If you want CDs, click on "add to cart" button.
If you want Instant mp3 Downloads,
click on the blue Instant Download link.

Back Pain Relief
Hypnosis
1 CD - $24.95
For INSTANT DOWNLOAD click here
Back Pain Relief
Hypnosis with Embedded Subliminal Track
1 CD - $29.95
Back Pain Relief
Hypnosis with Embedded Supraliminal Track
1 CD - $34.95
Back Pain Relief
Subliminal with Audible Intro Suggestions
1 CD - $14.95
For INSTANT DOWNLOAD click here
Back Pain Relief
Daytime Silent Subliminal
1 CD - $14.95
For INSTANT DOWNLOAD click here
Back Pain Relief
Nighttime Silent Subliminal Sleep Programming
1 CD - $14.95
For INSTANT DOWNLOAD click here
Back Pain Relief
Supraliminal with Audible Intro Suggestions
1 CD - $19.95
For INSTANT DOWNLOAD click here
Back Pain Relief
Daytime Silent Supraliminal
1 CD - $19.95
Back Pain Relief
Nighttime Silent Supraliminal Sleep Programming
1 CD - $19.95
For INSTANT DOWNLOAD click here
Back Pain Relief
Empowering Affirmations
1 CD - $17.95
Back Pain Relief
Empowering Affirmations with Embedded Subliminal Track
1 CD - $22.95
Back Pain Relief
Empowering Affirmations with Embedded Subliminal and Supraliminal Tracks
1 CD - $27.95
For INSTANT DOWNLOAD click here
Back Pain Relief
Supraliminal Plus
1 CD - $24.95
For INSTANT DOWNLOAD click here
Sanskrit Mantras for Pain Relief
1 CD - $24.95
Back Pain Relief
Hypnosis + Subliminal
2 CDs - $29.95
For INSTANT DOWNLOAD click here
Back Pain Relief
Hypnosis + Supraliminal
2 CDs - $34.95
For INSTANT DOWNLOAD click here
Back Pain Relief
Hypnosis + Supraliminal Plus
2 CDs - $39.95
For INSTANT DOWNLOAD click here
Back Pain Relief
Hypnosis + Subliminal + Supraliminal Plus
3 CDs - $49.95
For INSTANT DOWNLOAD click here
Back Pain Relief
Hypnosis + Supraliminal + Supraliminal Plus
3 CDs - $54.95
For INSTANT DOWNLOAD click here
Back Pain Relief
Hypnosis + Subliminal + Supraliminal + Supraliminal Plus
4 CDs - $64.95
Back Pain Relief
Hypnosis + Empowering Affirmations + Subliminal + Supraliminal + Supraliminal Plus
5 CDs - $79.95
Back Pain Relief
Hypnosis + Empowering Affirmations + Subliminal + Supraliminal + Supraliminal Plus + Sanskrit Mantras
6 CDs - $89.95