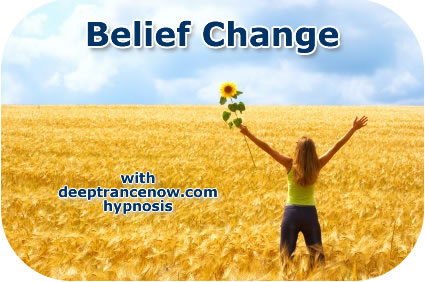 Your beliefs and inner motivations are of paramount importance when working with hypnosis. They may enable you to get what you want even instantly or they may make accomplishment of your desires utterly impossible.
Beliefs begin with your perception and then become cemented in your subconscious through your experience. They may seem to be based on facts, but for the most part they are someone's interpretation of facts. I say "someone's" because while you may have deliberately chosen some of the beliefs that are impressed in your subconscious mind, a lot of them you might have accepted at their face value - all the way back since the day you were born - never really questioning where they come from, and even more importantly - do they really serve you and are they helping you to reach your goals and turn your dreams into reality?
Congruence is inherently wired into our neurology and the interesting thing about our experiences is that we will seek, if not consciously, then unconsciously, experiences that validate our beliefs. If we happen to have experiences that do not validate our beliefs, we'll do our best to discard them.
Our beliefs form the "truth" we have accepted about ourselves, about our world and about our lives. Just how easily we turn our interpretations and experiences into our truths and convictions, is beautifully portrayed through this lovely poem by John Godfrey Saxe.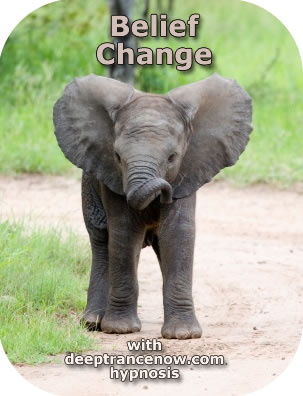 The Blind Men and the Elephant
It was six men of Indostan
To learning much inclined,
Who went to see the Elephant
(Though all of them were blind),
That each by observation
Might satisfy his mind.

The First approached the Elephant,
And happening to fall
Against his broad and sturdy side,
At once began to bawl:
"God bless me! but the Elephant
Is very like a wall!"

The Second, feeling of the tusk,
Cried, "Ho, what have we here,
So very round and smooth and sharp?
To me 'tis mighty clear
This wonder of an Elephant
Is very like a spear!"

The Third approached the animal,
And happening to take
The squirming trunk within his hands,
Thus boldly up and spake:
"I see", quoth he, "the Elephant
Is very like a snake!"

The Fourth reached out an eager hand,
And felt about the knee.
"What most this wondrous beast is like
Is mighty plain," quoth he;
"'Tis clear enough the Elephant
Is very like a tree!"

The Fifth, who chanced to touch the ear,
Said: "E'en the blindest man
Can tell what this resembles most;
Deny the fact who can,
This marvel of an Elephant
Is very like a fan!"

The Sixth no sooner had begun
About the beast to grope,
Than, seizing on the swinging tail
That fell within his scope,
"I see", quoth he, "the Elephant
Is very like a rope!"

And so these men of Indostan
Disputed loud and long,
Each in his own opinion
Exceeding stiff and strong,
Though each was partly in the right,
And all were in the wrong!
Throughout history, people were all too eager to kill each other because of differences in their belief systems. Our sense of self, our sense of identity is tied to our belief systems. If someone comes along and threatens to dismantle our belief system just like that, we may even interpret it as a threat to our lives - because all of a sudden, all that gave meaning and solidity to our interpretation of reality is about to crash into nothingness. All that we fought for, all that we poured our energy into, all that we considered important now means nothing.
A Course in Miracles goes right to the point. It begins with "Nothing that I see in this room means anything", "Nothing that I see out there means anything" ... this body doesn't mean anything ... that car for which I worked so hard doesn't mean anything ... that house which I'm still paying mortgage for doesn't mean anything ... pretty drastic, ha? Yet, it's not that these things are meaningless, but in order to perceive their true meaning we have to be willing to let go of our current perception and allow ourselves to look at the world in a different way.
Sometimes people consciously desire to have certain experiences, but their unconscious beliefs and motivations are quite at odds with what they think they want.
A person says he wants to quit smoking, yet upon questioning his unconscious mind - the unconscious states "no, I don't want to quit". A person says she wants to lose weight, yet within her unconscious are fears regarding how is she going to cope with possible sexual advances once she looks more attractive.
Sometimes people hold onto unconscious beliefs and motivations to prove something to their parents or to some other significant person in their lives. Sometimes the reason may be to maintain certain status in society. The number of reasons are infinite.
If your beliefs and inner motivations are supporting you and your goals, if they are truly serving your interests, you may leave them alone. If you feel stuck and have a great challenge moving toward your goal, then you may want to examine and possibly change your beliefs.
Because we all perceive the world in slightly different way and we do have different beliefs, you are bound to stumble upon people whose beliefs will be at great odds with your own. There are people who are so stuck in their own belief systems and so blind to any other worldviews (just like the men with the elephant), that they get very angry at others who choose to look upon the world through different eyes, from different perspective. You can just let them enjoy their own reality. Each to his own.
In Deep Trance Now Newsletter articles I have described several ways you can use to uncover your own subconscious beliefs. To access them, you can go here to subscribe to Deep Trance Now Newsletter.
I'd like to provide you here with one way of becoming aware of the beliefs that are within your comfort zone and those that are outside of your comfort zone.
This particular process is one form of "ideomotor signaling" which we all experience in our daily lives - as a gut feeling. In hypnosis, ideomotor signaling is used to get information from your unconscious to express in some way through your body.
By the way, I've originally become consciously aware of this process while participating in playing the games of chance some 15 years ago. That's just to say how many things go on in our minds and bodies for years that we are not consciously aware of, or that we don't really pay attention to, and therefore miss the opportunity to use these techniques consciously.
You can choose any belief you'd like to work with, but for the sake of example, let's say you'd like to create certain amount of money (it may be through winning at the games of chance, or through earning an income).
I would like you first to think of some way in which you've been getting money on a regular basis, as well as the amount of money that you've been getting regularly and which now feels so easy and natural for you that you don't even think about it as being in any way unusual for you. In other words, you feel comfortable with it.
As you do, become aware of your breathing and the sensations you may experience in your body, particularly the sensations in your stomach, around the solar plexus area. This area serves as your "feeling" barometer. Your subconscious mind is the realm of feelings. When you think of things that feel comfortable for you, of things that are in agreement with your subconscious beliefs and motivations, this part of your body will feel relaxed and comfortable. When you think of things that are at odds with your innermost beliefs and motivations, you may become aware of the tension in your solar plexus area.
Keep breathing, and pay attention to your breathing and to the sensations in your stomach as you think of different amounts of money and of different ways of getting it.
Now I'd like you to think of an amount of money that is greater than what you have been accustomed to getting, or that may be a different way of getting the money that you've been accustomed to. At the point at which you begin to experience tension in your solar plexus when you imagine yourself getting certain amount of money or getting it in a certain way - you will have stumbled upon the boundary of your comfort zone.
You could say that your "comfort zone" represents the realm of what would constitute "reasonable expectation" for you - until you stretch your comfort zone by changing the programming in your subconscious mind.
I would also like to point out that our beliefs do not consist only of the ideas we "think" we believe, but rather of what we have subjectively experienced and accepted as our reality. When you are working on changing your beliefs, it is vitally important to subjectively experience your new reality and that is what Deep Trance Now Belief Change program guides you to experience.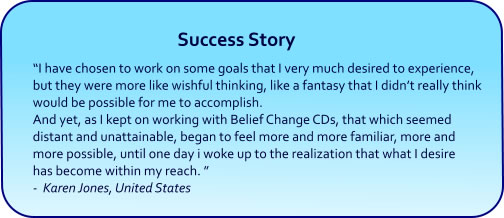 Belief Change Deep Trance Now Hypnosis Programs
» Hypnosis Newsletter and Free Downloads
If you want CDs, click on "add to cart" button.
If you want Instant mp3 Downloads,
click on the blue Instant Download link.

You may also like Develop Faith recordings, which contain additional techniques for transforming and strengthening your beliefs.