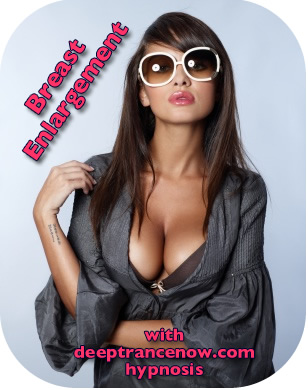 Several researchers and clinicians have produced breast enlargement in women through hypnosis, usually by providing imagery and suggestions that stimulate blood flow in women's breasts, or byreinstatement of tender, swelling feelings typical of puberty, or the induction of pulsing, tingling sensations associated with sexual arousal.
The women who participated in hypnosis experiments experienced an average breast increase of 1.5 inches, while some women's measurements increased by 3 inches or more. In most of these studies, measurements were carefully made, with consideration of weight changes and the menstrual cycle.
The women with strong motivation or expectation of success generally experienced the most dramatic results. Some women in these studies had to work through sexual inhibitions that had affected them since puberty.
Double Your Power to Program Your Mind
To help you enter even deeper levels of hypnosis effortlessly and remain focused, this program is enhanced with brainwave synchronization. Breast Enlargement with Hypnosis CDs incorporate different hypnotic techniques including Neuro-Linguistic Programming (NLP) and Time-Line Therapy. These techniques will help you to get the desired results faster.
To help you program your mind even deeper, with purchase of an entire set, you will also get Subliminal and Supraliminal Plus Recordings for Breast Enlargement. You will also receive Breaking Free From Limitations and Change Your Body Supraliminal Plus recordings to clear any mental and emotional obstacles related to your desired breast growth and to help you experience the desired results faster. Listening to subliminal and supraliminal recordings does not require any effort, as the suggestions bypass your conscious awareness and go straight into your subconscious mind.
How Does it Work
Your body is an effect of thoughts, emotions and beliefs you already impressed upon your subconscious mind.The cells of your body are constantly being renewed according to the blueprint you hold in your subconscious.
All the genetic and environmental factors that influenced the growth of your breasts are also part of the blueprint your hold in your subconscious mind.With the help of hypnosis you can effortlessly change this blueprint.You can impress the image of the breasts you desire upon your subconscious and watch your breasts gradually become just the way you want them.
Effortless change does not necessarily mean that you would notice an instantaneous visible change in your body.Even though in your subconscious mind there is no time - there is only NOW - your desire, belief and expectation determine how long it takes before you actually see the change.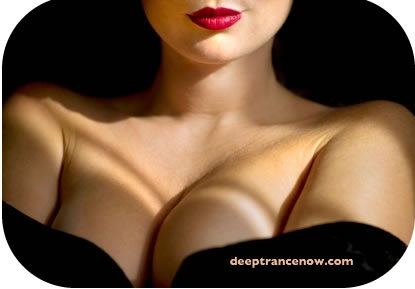 Your thoughts and emotions influence the bio-chemical changes in your body.You are constantly affecting your body through the words you say and images you paint on the canvas of your mind.Some of these changes occur slowly enough making it harder to notice the correlation between your thoughts and your body.Some changes and effects are noticeable immediately.They are usually preceded by vivid imagery and intense emotions. Perhaps you can think of one or more occasions when you experienced intense emotion and you noticed an instant reaction in your body.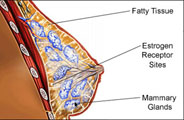 Your subconscious does not distinguish between the thoughts that are held only in your mind and those you consider "real". Your subconscious mind acts accepts all vivid imagery you hold onto in your mind as "real" and it actualizes it to stimulate the blood flow and the release of hormones in your breasts. If you pay attention, you may notice the effect that the mere thoughts of sexual arousal have on your breasts. Yet, when using hypnosis for breast enlargement this effect is vastly enhanced.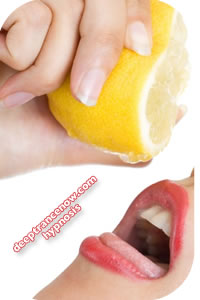 To experience the effect your imagination has on your body, you can do this now. Just imagine that you are holding a big yellow juicy lemon in your hand. Feel its firmness, texture, smoothness and bumps.Bring it to your nose and smell it. Imagine carefully piercing this big yellow juicy lemon with a sharp knife, its juice squirting all over your hand.Then slice it, and imagine biting into a lemon, the juice of the lemon spreading through your mouth.If you really got into it, the image of biting into this big yellow juicy lemon caused your salivary glands to secrete more saliva in your mouth.But where is the lemon?Only in your imagination.
» Click here for Scientific Research on Breast Enlargement with Hypnosis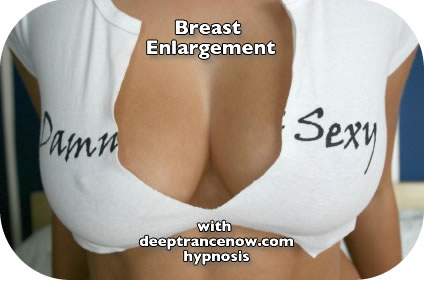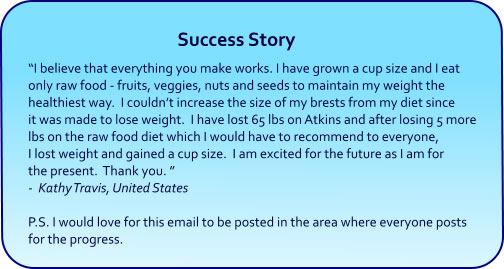 Deep Trance Now Hypnosis Programs
» Hypnosis Newsletter and Free Downloads
If you want CDs, click on "add to cart" button.
If you want Instant mp3 Downloads,
click on Instant Download link.

Breast Enlargement
Hypnosis with Embedded Subliminal Track
1 CD - $29.95

(You can choose any Breast Enlargement hypnosis)

Breast Enlargement
Hypnosis with Embedded Supraliminal Track
1 CD - $34.95

(You can choose any Breast Enlargement hypnosis)

Breast Enlargement
Subliminal with Audible Intro Suggestions
1 CD - $14.95
For INSTANT DOWNLOAD click here
Breast Enlargement
Daytime Silent Subliminal
1 CD - $14.95
Breast Enlargement
Nighttime Silent Subliminal Sleep Programming
1 CD - $14.95
For INSTANT DOWNLOAD click here
Breast Enlargement
Supraliminal with Audible Intro Suggestions
1 CD - $19.95
For INSTANT DOWNLOAD click here
Breast Enlargement
Daytime Silent Supraliminal
1 CD - $19.95
Breast Enlargement
Nighttime Silent Supraliminal Sleep Programming
1 CD - $19.95
For INSTANT DOWNLOAD click here
Breast Enlargement
Empowering Affirmations
1 CD - $17.95
Breast Enlargement
Empowering Affirmations with Embedded Subliminal Track
1 CD - $22.95
Breast Enlargement
Empowering Affirmations with Embedded Subliminal and Supraliminal Tracks
1 CD - $27.95
For INSTANT DOWNLOAD click here
Breast Enlargement
Supraliminal Plus
1 CD - $24.95
For INSTANT DOWNLOAD click here
Breast Enlargement 1
Hypnosis + Subliminal
2 CDs - $29.95
For INSTANT DOWNLOAD click here
Breast Enlargement 1
Hypnosis + Supraliminal
2 CDs - $34.95
For INSTANT DOWNLOAD click here
Breast Enlargement 1
Hypnosis + Supraliminal Plus
2 CDs - $39.95
For INSTANT DOWNLOAD click here
Breast Enlargement 1
Hypnosis + Subliminal + Supraliminal Plus
3 CDs - $49.95
For INSTANT DOWNLOAD click here
Breast Enlargement 1
Hypnosis + Supraliminal + Supraliminal Plus
3 CDs - $54.95
For INSTANT DOWNLOAD click here
Breast Enlargement
Hypnosis + Subliminal + Supraliminal + Supraliminal Plus
4 CDs - $64.95
Breast Enlargement
Hypnosis + Empowering Affirmations + Subliminal + Supraliminal + Supraliminal Plus
5 CDs - $79.95