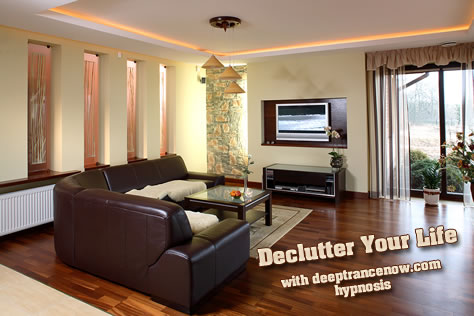 You have been accumulating things because they were useful or enjoyable to have, and maybe that of abundance of things gave you a certain sense of comfort, knowing that if you need something, you'll find it somewhere in that pile of things you've got, but then all those things gave rise to occasional discomfort and sometimes it took you more time to find what you were looking for than to just go out and buy another thing or the space became so crowded that you had to step or jump and occasionally stumble over all those things that are in your way - and now you're faced with some challenging choices - how to keep that comfort of having what you may enjoy having, finding what you need and making sure you don't break your neck stumbling over the piles of things or wondering whether some of that stuff may fall on your head while you're sleeping.
By now you don't even know what treasures are hiding in those piles of things, because some things have been laying in piles or in boxes for a very, very long time, so long that you forgot about what you have, and at times, when you need something, you may be even experiencing an occasional joy treasure-hunters feel. Every now and then you surprise yourself as you dig out some long-forgotten item, and you feel almost as if someone gave you a gift, as you delightfully exclaim "Wow, I didn't even know I still had that!" or perhaps "How did this thing get here? I don't even remember getting it."
Perhaps your situation is not that bad and unbearable, but the pile of things you accumulated is starting to make you feel uncomfortable, and you have decided that you want to free your mind, your place and your life from all those things you haven't used in a long time, things that may be too big or too small, or too old or spoiled, gadgets that may not even be working any more, outdated things, things that belonged to another time in your life, things that once upon a time meant something to you, but now someone else could get more out of them, while you can have more space to breathe, and move, and feel better about yourself and about your life.
And now you are ready to make free up some space and make more room in your life, to start a new chapter in your life, so today you can begin by de-cluttering your mind, your space and your life by re-programming your mind with a clutter-free mindset, with new behaviors that will enable you to free up your space in a way that is comfortable for you.
Clutter Free
Deep Trance Now Hypnosis CDs and mp3 downloads
» Hypnosis Newsletter and Free Downloads
If you want CDs, click on "add to cart" button.
If you want Instant mp3 Downloads,
click on the blue Instant Download link.