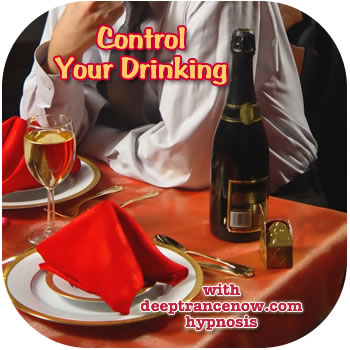 Control Your Drinking hypnosis program is designed to help you control your drinking habit and stop when you know that it's best to stop. This recording may also help you to taper down your drinking and stop if you so choose. You can also choose when you may want to drink - perhaps while attending some social functions, and to what extent you may want to drink - so that you may still be in control of your behavior.
Control Your Drinking subliminal, supralminal and supraliminal plus recordings contain supporting suggestions and while they may work well on their own, for best results I recommend that you use these recordings in conjunction with hypnosis recording.
"One reason I don't drink is that I want to know when I am having a good time."
- Lady Astor
Control Your Drinking
Deep Trance Now Hypnosis Programs
» Hypnosis Newsletter and Free Downloads
If you want CDs, click on "add to cart" button.
If you want Instant mp3 Downloads,
click on the blue Instant Download link.

Control Drinking
Hypnosis
1 CD - $24.95
For INSTANT DOWNLOAD click here
Control Drinking
Hypnosis with Embedded Subliminal Track
1 CD - $29.95
Control Drinking
Hypnosis with Embedded Supraliminal Track
1 CD - $34.95
Control Drinking
Subliminal with Audible Intro Suggestions
1 CD - $14.95
Control Drinking
Daytime Silent Subliminal
1 CD - $14.95
Control Drinking
Nighttime Silent Subliminal Sleep Programming
1 CD - $14.95
Control Drinking
Supraliminal with Audible Intro Suggestions
1 CD - $19.95
Control Drinking
Daytime Silent Supraliminal
1 CD - $19.95
Control Drinking
Nighttime Silent Supraliminal Sleep Programming
1 CD - $19.95
Control Drinking
Empowering Affirmations
1 CD - $17.95
Control Drinking
Empowering Affirmations with Embedded Subliminal Track
1 CD - $22.95
Control Drinking
Empowering Affirmations with Embedded Subliminal and Supraliminal Tracks
1 CD - $27.95
Control Drinking
Supraliminal Plus
1 CD - $24.95
For INSTANT DOWNLOAD click here
Control Drinking
Brainwave Entrainment
1 CD - $24.95
Control Drinking
Sanskrit Mantras
1 CD - $24.95
Control Drinking
Hypnosis + Subliminal
2 CDs - $29.95
Control Drinking
Hypnosis + Supraliminal
2 CDs - $34.95
Control Drinking
Hypnosis + Supraliminal Plus
2 CDs - $39.95
Control Drinking
Hypnosis + Subliminal + Supraliminal Plus
3 CDs - $49.95
Control Drinking
Hypnosis + Supraliminal + Supraliminal Plus
3 CDs - $54.95
Control Drinking
Hypnosis + Subliminal + Supraliminal + Supraliminal Plus
4 CDs - $64.95
Control Drinking
Hypnosis + Empowering Affirmations + Subliminal + Supraliminal + Supraliminal Plus
5 CDs - $79.95
Control Drinking
Hypnosis + Empowering Affirmations + Subliminal + Supraliminal + Supraliminal Plus + Brainwave Entrainment
6 CDs - $89.95
Control Drinking
Hypnosis + Empowering Affirmations + Subliminal + Supraliminal + Supraliminal Plus + Sanskrit Mantras
6 CDs - $89.95
Control Drinking
Hypnosis + Empowering Affirmations + Subliminal + Supraliminal + Supraliminal Plus + Sanskrit Mantras + Brainwave Entrainment
7 CDs - $108.00