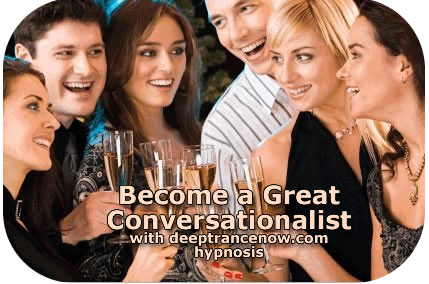 Are you feeling tongue-tied and lost for words when you find yourself among other people, particularly people you have never met?
Become a Great Conversationalist hypnosis CD will make it super easy for you to start conversations, keep them going and come across as a very interesting person to people with whom you communicate.
Become a Great Conversationalist subliminal, supraliminal and supraliminal plus CD contain direct suggestions that can work well on their own to become comfortable striking conversations, however they do not guide you through the practice of techniques that will transform you into a superb conversationalist, and for best results I recommend that you work also with Become a Great Conversationalist hypnosis recording.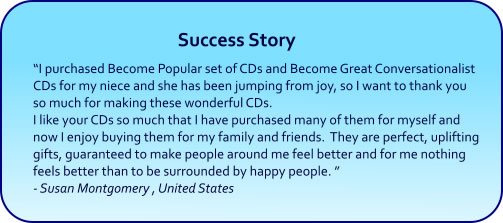 Become A Great Conversationalist
Deep Trance Now Hypnosis Programs
» Hypnosis Newsletter and Free Downloads
If you want CDs, click on "add to cart" button.
If you want Instant mp3 Downloads,
click on the blue Instant Download link.

Become A Great Conversationalist
Hypnosis
1 CD - $24.95
For INSTANT DOWNLOAD click here
Become A Great Conversationalist
Hypnosis with Embedded Subliminal Track
1 CD - $29.95
Become A Great Conversationalist
Hypnosis with Embedded Supraliminal Track
1 CD - $34.95
For INSTANT DOWNLOAD click here
Become A Great Conversationalist
Subliminal with Audible Intro Suggestions
1 CD - $14.95
For INSTANT DOWNLOAD click here
Become A Great Conversationalist
Daytime Silent Subliminal
1 CD - $14.95
Become A Great Conversationalist
Nighttime Silent Subliminal Sleep Programming
1 CD - $14.95
For INSTANT DOWNLOAD click here
Become A Great Conversationalist
Supraliminal with Audible Intro Suggestions
1 CD - $19.95
For INSTANT DOWNLOAD click here
Become A Great Conversationalist
Daytime Silent Supraliminal
1 CD - $19.95
Become A Great Conversationalist
Nighttime Silent Supraliminal Sleep Programming
1 CD - $19.95
For INSTANT DOWNLOAD click here
Become A Great Conversationalist
Empowering Affirmations
1 CD - $17.95
Become A Great Conversationalist
Empowering Affirmations with Embedded Subliminal Track
1 CD - $22.95
Become A Great Conversationalist
Empowering Affirmations with Embedded Subliminal and Supraliminal Tracks
1 CD - $27.95
Become A Great Conversationalist
Supraliminal Plus
1 CD - $24.95
For INSTANT DOWNLOAD click here
Become A Great Conversationalist
Hypnosis + Subliminal
2 CDs - $29.95
Become A Great Conversationalist
Hypnosis + Supraliminal
2 CDs - $34.95
Become A Great Conversationalist
Hypnosis + Supraliminal Plus
2 CDs - $39.95
Become A Great Conversationalist
Hypnosis + Subliminal + Supraliminal Plus
3 CDs - $49.95
Become A Great Conversationalist
Hypnosis + Supraliminal + Supraliminal Plus
3 CDs - $54.95
Become A Great Conversationalist
Hypnosis + Subliminal + Supraliminal + Supraliminal Plus
4 CDs - $64.95
Become A Great Conversationalist
Hypnosis + Empowering Affirmations + Subliminal + Supraliminal + Supraliminal Plus
5 CDs - $79.95