Become a Money Magnet
and Enjoy Financial Abundance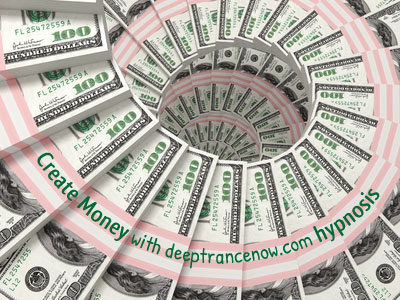 Your Road to Riches leading to Financial Freedom begins in your mind. The thoughts that you contemplate on daily basis influence your reality. If you tend to worry about money and wonder how you are going to pay your bills, you are programming your subconscious mind with outcomes you'd rather not experience. If you dislike what you do for a living, you are making it that much harder to create money and enjoy your life.
Deep Trance Now Create Money CDs and mp3s are designed to help you travel the road to riches and financial freedom in a way that you can enjoy every step of the way. Money is a side-effect of living your life with passion, of loving your life and expressing your talents and abilities. You can grow happier and wealthier - wealthy enough that you can live your life comfortably and have all of your needs met. We all have different needs and wants, different amounts of money we may need to live our lives in a way that brings us joy as well as a peace of mind.
Deep Trance Now Create Money CDs and mp3s are designed to help you create all the money that you need to live your life with joy, and with inner peace, feeling good about the way you are making money, and living your life with assurance that you will always have whatever money you need to meet all of you rneeds.

Deep Trance Now Create Money subliminal, supraliminal and supraliminal plus CDs and mp3s contain supporting suggestions and while you may get desired results listening only to Create Money subliminal, supraliminal and supraliminal plus CDs or mp3s, for best and fastest results, I recommend that you also work with Create Money hypnosis CDs.
If you have an affinity for working with Sanskrit mantras, Sanskrit mantras for Overcoming Financial Difficulties, Sanskrit Mantras for Creating Money, and Sanskrit Mantras for Financial Wealth can help you to stop worrying about money, experience inner peace and joy through chanting, and transform yourself into a money magnet by establishing a vibration of financial abundance within you and draw all the money you need into your life through vibrational resonance.
» You may also like other CDs from the Financial Wealth collection
Create Money Deep Trance Now Hypnosis Programs
» Hypnosis Newsletter and Free Downloads
If you want CDs, click on "add to cart" button.
If you want Instant mp3 Downloads,
click on the blue Instant Download link.

» Click here for more recordings related to Creating Financial Abundance