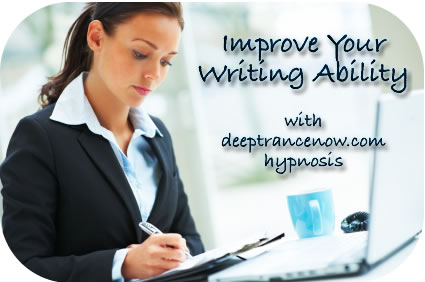 Improve Your Writing Ability program will show you how to get rid of the writer's block forever.
Improve Your Writing Ability Deep Trance Hypnosis program guides you through the entire writing process from generating ideas, sorting them out, writing your draft keeping in mind your target audience and the purpose of your writing, through editing your material.
Improve Your Writing Deep Trance Now Hypnosis Programs
» Hypnosis Newsletter and Free Downloads
If you want CDs, click on "add to cart" button.
If you want Instant mp3 Downloads,
click on the blue Instant Download link.

You may also like Creative Idea Generator recordings.
Improve Your Writing Ability
Hypnosis
1 CD - $24.95
For INSTANT DOWNLOAD click here
Improve Your Writing Ability
Hypnosis with Embedded Subliminal Track
1 CD - $29.95
Improve Your Writing Ability
Hypnosis with Embedded Supraliminal Track
1 CD - $34.95
For INSTANT DOWNLOAD click here
Improve Your Writing Ability
Subliminal with Audible Intro Suggestions
1 CD - $14.95
For INSTANT DOWNLOAD click here
Improve Your Writing Ability
Daytime Silent Subliminal
1 CD - $14.95
For INSTANT DOWNLOAD click here
Improve Your Writing Ability
Nighttime Silent Subliminal Sleep Programming
1 CD - $14.95
For INSTANT DOWNLOAD click here
Improve Your Writing Ability
Supraliminal with Audible Intro Suggestions
1 CD - $19.95
For INSTANT DOWNLOAD click here
Improve Your Writing Ability
Daytime Silent Supraliminal
1 CD - $19.95
Improve Your Writing Ability
Nighttime Silent Supraliminal Sleep Programming
1 CD - $19.95
For INSTANT DOWNLOAD click here
Improve Your Writing Ability
Empowering Affirmations
1 CD - $17.95
Improve Your Writing Ability
Empowering Affirmations with Embedded Subliminal Track
1 CD - $22.95
Improve Your Writing Ability
Empowering Affirmations with Embedded Subliminal and Supraliminal Tracks
1 CD - $27.95
For INSTANT DOWNLOAD click here
Improve Your Writing Ability
Supraliminal Plus
1 CD - $24.95
For INSTANT DOWNLOAD click here
Brainwave Entrainment for Creativity
1 CD - $24.95
Sanskrit Mantras for Eloquence with Words
1 CD - $24.95
Improve Your Writing Ability
Hypnosis + Subliminal
2 CDs - $29.95
For INSTANT DOWNLOAD click here
Improve Your Writing Ability
Hypnosis + Supraliminal
2 CDs - $34.95
For INSTANT DOWNLOAD click here
Improve Your Writing Ability
Hypnosis + Supraliminal Plus
2 CDs - $39.95
For INSTANT DOWNLOAD click here
Improve Your Writing Ability
Hypnosis + Subliminal + Supraliminal Plus
3 CDs - $49.95
For INSTANT DOWNLOAD click here
Improve Your Writing Ability
Hypnosis + Supraliminal + Supraliminal Plus
3 CDs - $54.95
For INSTANT DOWNLOAD click here
Improve Your Writing Ability
Hypnosis + Subliminal + Supraliminal + Supraliminal Plus
4 CDs - $64.95
Improve Your Writing Ability
Hypnosis + Empowering Affirmations + Subliminal + Supraliminal + Supraliminal Plus
5 CDs - $79.95
Improve Your Writing Ability
Hypnosis + Empowering Affirmations + Subliminal + Supraliminal + Supraliminal Plus + Sanskrit Mantras
6 CDs - $89.95