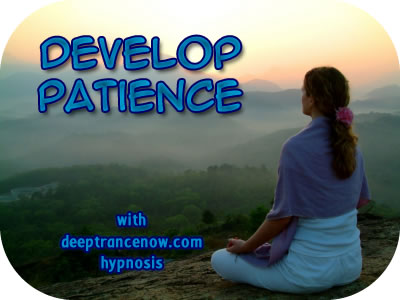 "Patience is the companion of wisdom"
- St. Augustine
In a world where we have become used to promises of instant gratification, patience may feel extremely challenging. We'd like to have everything instantly - instant success, instant wealth, instant service and sometimes we may have to wait and be patient.
Sometimes we may have to wait in line, or we may get caught in a traffic, sometimes children may be constantly demanding our attention, or elderly people may be taking their sweet time to take care of things. Sometimes people who are offering us service are not doing it as fast as we'd like, and sometimes things that we are doing are taking way much more time than we'd like.
Developing patience can help you to reduce stress, become happier, and make wiser decisions. Developing patience can help you to enjoy your life more and to have a better health. Developing patience can help you to reduce anxiety and frustration and improve your relationship with people you care about.
Develop Patience hypnosis, subliminal, supraliminal, supraliminal plus, affirmations, and mantra recordings will help you to relax, use the time you need to wait constructively, take the time to re-charge your self and think things through and then act from that calm place within you, accomplishing more than you would've if you were mentally and emotionally distressed and in a rush to pass through seemingly immovable obstacles.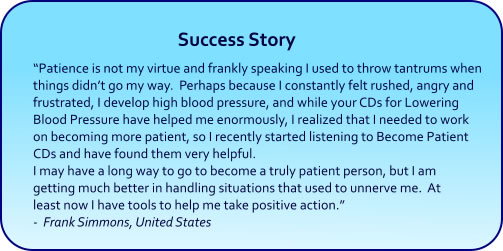 Develop Patience Deep Trance Now Hypnosis Programs
» Hypnosis Newsletter and Free Downloads
If you want CDs, click on "add to cart" button.
If you want Instant mp3 Downloads,
click on the blue Instant Download link.