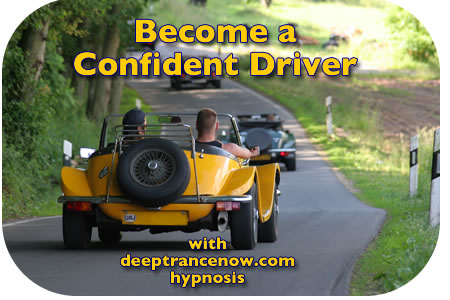 Tips for Safe Driving
Always wear your safety belt
Check your vehicle and make sure that it is safe to drive
Never drive under the influence of alcohol, drugs, or medications that may impair your driving ability
Keep it slow and safe in the beginning
Practice driving in good weather conditions before driving in challenging weather conditions
Limit your night driving
Have as much supervised driving as you need
Pay attention and make eye-contact with pedestrians or other drivers when appropriate and necessary to ensure safety
How can Hypnosis Help You to Become a Confident Driver
Perhaps you have drove many years ago, and for whatever reason you made a break and haven't driven for a long time. Confident driving hypnosis can help you to refresh your memory and re-stimulate that past successful driving experience that has been already wired in your neurology and start driving with the same, and even greater confidence than you had before. It is amazing how much information is stores in our muscles and in our neurology, and while we may not be fully consciously aware of the avalanche of information that we have, our bodies remember and it is easy to bring that past knowledge to the forefront and bridge the time gap during which we didn't have much practice.
Of perhaps you have just completed the driving course and do not feel that you have enough confidence yet. By subjectively rehearsing the challenging aspects of your driving through hypnosis, in a way that you are successfully overcoming every driving challenge that comes your way, you will be conditioning your subconscious and your neurology to automatically respond in a resourceful way when you face those driving challenges in real life. Having already experienced all those challenging situations, and rehearsed them while in hypnosis, you will automatically react in a resourceful way when you find yourself in those situations in your day-to-day driving, and you will be able to drive with confidence.
And while Confident Driving hypnosis recording will help you to rehearse every challenging driving situation that you can think of, subliminal, supraliminal, and supraliminal plus recordings will program your subconscious mind with awareness of whatever you may need to be fully aware of while driving, so that you may notice everything you need to pay attention to, and be alerted whenever anything requires your attention, and it will program your subconscious to react in resourceful ways and drive safely - all of which will greatly enhance your driving confidence.
For best results, I recommend that you work both with hypnosis recordings, and at least one of the subliminal, supraliminal or supraliminal plus recordings. You can listen to Confident Driving hypnosis recording once a day, perhaps just before falling asleep, and you can have subliminal or supraliminal plus recording play in the background, even while you're driving. Alternatively you can listen to supraliminal plus recording once a day.
Confident Driving CDs are designed to help you to enjoy driving with confidence.

Become a Confident Driver with
Deep Trance Now Hypnosis CDs and mp3 downloads
» Hypnosis Newsletter and Free Downloads
Confident Driving Subliminal Suggestions Demo
If you want CDs, click on "add to cart" button.
If you want Instant mp3 Downloads,
click on the blue Instant Download link.

Confident Driving
Hypnosis
1 CD - $24.95
For INSTANT DOWNLOAD click here
Confident Driving
Hypnosis with Embedded Subliminal Track
1 CD - $29.95
Confident Driving
Hypnosis with Embedded Supraliminal Track
1 CD - $34.95
Confident Driving
Subliminal with Audible Intro Suggestions
1 CD - $14.95
For INSTANT DOWNLOAD click here
Confident Driving
Daytime Silent Subliminal
1 CD - $14.95
For INSTANT DOWNLOAD click here
Confident Driving
Nighttime Silent Subliminal Sleep Programming
1 CD - $14.95
For INSTANT DOWNLOAD click here
Confident Driving
Supraliminal with Audible Intro Suggestions
1 CD - $19.95
For INSTANT DOWNLOAD click here
Confident Driving
Daytime Silent Supraliminal
1 CD - $19.95
For INSTANT DOWNLOAD click here
Confident Driving
Nighttime Silent Supraliminal Sleep Programming
1 CD - $19.95
For INSTANT DOWNLOAD click here
Confident Driving
Empowering Affirmations
1 CD - $17.95
Confident Driving
Empowering Affirmations with Embedded Subliminal Track
1 CD - $22.95
Confident Driving
Empowering Affirmations with Embedded Subliminal and Supraliminal Tracks
1 CD - $27.95
Confident Driving
Supraliminal Plus
1 CD - $24.95
For INSTANT DOWNLOAD click here
Confident Driving
Hypnosis + Subliminal
2 CDs - $29.95
Confident Driving
Hypnosis + Supraliminal
2 CDs - $34.95
Confident Driving
Hypnosis + Supraliminal Plus
2 CDs - $39.95
Confident Driving
Hypnosis + Subliminal + Supraliminal Plus
3 CDs - $49.95
Confident Driving
Hypnosis + Supraliminal + Supraliminal Plus
3 CDs - $54.95
Confident Driving
Hypnosis + Subliminal + Supraliminal + Supraliminal Plus
4 CDs - $64.95
Confident Driving
Hypnosis + Empowering Affirmations + Subliminal + Supraliminal + Supraliminal Plus
5 CDs - $79.95