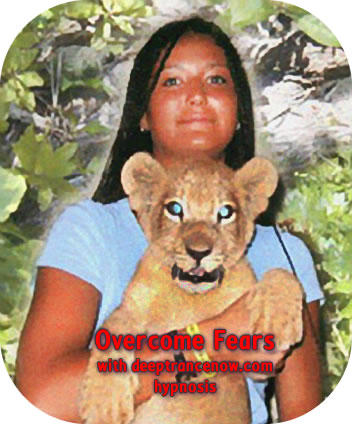 Sanya with a lion
Some fears are useful - they direct you to pay attention and restrain yourself from engaging in activities that may be hazardous to your wellbeing and survival. Other fears present obstacles which prevent you from leading a fulfilling life.
Sometimes a specific phobia is caused by some traumatic event from the past. The event left a deep emotional imprint which may have become generalized and is being projected unconsciously onto any similar future event. A person bitten by the snake may begin to freak out at a mere shadow or anything that resembles the offender. With such fears, together with the "End Fears and Phobias" recording, I also recommend "New History Generator" recording.
Sometimes specific fear is not related to any personal experience, but may be a projection of images from the material that has been entertained through reading, listening to news, watching movies, etc. Some people virtually indulge in mental food that deals with disasters. As these images become impressed upon the subconscious mind, a person begins to appropriate them and project them into his own future, living in constant fear and as a matter of fact expecting a disaster to happen. Our thoughts are creative and there are a lot of people who have attracted or rather created disasters that wouldn't have happened otherwise.
One such example follows. A friend of my relative moved to Paris. She was regularly taking cabs to go from one place to another because she feared very much that if she were to take subway (called "metro" in France), someone would attack her. She was never before attacked by anyone. She merely constantly carry that image in her mind. It was really no surprise that the first time she decided to take subway - she was attacked and robbed. As soon as she arrived in front of the door of her house, she was assaulted again. Since she didn't have any more valuables, this time she only got beat up.
Some people constantly entertain fears of loss of some kind. This may vary from fearing a loss of a mate, to saving money for rainy days. This is not a good way of programming one's subconscious as those who fear rainy days usually attract them, or rather create them. Again, I know a lot of people who were financially quite prosperous but whose beliefs and expectations have created circumstances where they lived as paupers - either they've lost almost all the things they have accumulated or they were in some way barred access to what they acquired.
For those types of fears the recording "End Fears and Phobias" should suffice.
Some relatively common fears are fear of flying, fear of closed spaces, fear of open spaces, fear of spiders, fear of mice, etc. With any fears, phobias, anxieties and traumas, that were caused by some previous personal experience I recommend you also work with "New History Generator" recording. With others that have as far as you are concerned an unknown cause, you can work only with "End Fears and Phobias" recording.
» Click here for additional resources for Anxiety and Panic Attacks
End Fears and Phobias
Deep Trance Now Hypnosis CDs and mp3 downloads
The recordings on this page are self-improvement recordings intended for mentally healthy people who are able and willing to take responsibility for their lives. People who were treated for mental health problems or are suffering from mental health issues should consult with their health care provider before using these recordings.
» Hypnosis Newsletter and Free Downloads
If you want CDs, click on "add to cart" button.
If you want Instant mp3 Downloads,
click on the blue Instant Download link.