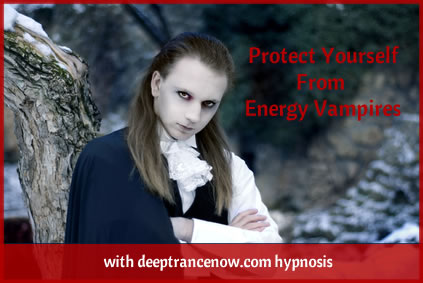 While vampires in the movies feed on your blood, energy vampires feed on your energy. As a matter of fact we all feed on energy in different forms - we absorb energy from the food we eat, from sunshine, from the air (air is the carrier of the energy / prana / chi), from the universal, spiritual source, and at times, if we feel drained or energetically imbalanced, we may also be draining the energy from those around us.
Energy vampires, for our purposes here, are people who regularly feed on the energy of other people. When you are in the presence of someone who is draining your energy, you feel energetically drained. You may spend few hours chatting with such a person and then feel rather weak and tired.
The person may be draining your energy by constantly complaining or constantly needing your attention, acting helpless, or pushing your emotional buttons, making invalidating remarks or or even simply by thinking invalidating thoughts of you.
When someone keeps on your energy long enough, it can weaken you not only mentally, but also physically, weakening your immune system and creating all kinds of health problems, because ultimately even your physical body needs energy to function properly.
People in helping professions may find themselves drained by people whom they are helping, all the more so if they are taking responsibility for what the other person is supposed to be responsible.
Protect Yourself From Energy Vampires CDs and mp3s will be particularly helpful to you if you feel energetically drained, weak or tired after you've spent some time with a person who has such an effect upon you. Protect Yourself from Energy Vampires will help you to energetically cut the connection with the person who is draining you, to protect your energy field and to stop that other person from feeding on your energy.
Protect Yourself From Energy Vampires
Deep Trance Now Hypnosis CDs and mp3 downloads
The recordings on this page are self-improvement recordings intended for mentally healthy people who are able and willing to take responsibility for their lives. People who were treated for mental health problems or are suffering from mental health issues should consult with their health care provider before using these recordings.
» Hypnosis Newsletter and Free Downloads
If you want CDs, click on "add to cart" button.
If you want Instant Downloads,
click on the blue Instant Download link.

Protect Yourself From Energy Vampires
Hypnosis
1 CD - $24.95
For INSTANT DOWNLOAD click here
Protect Yourself From Energy Vampires
Hypnosis with Embedded Subliminal Track
1 CD - $29.95
Protect Yourself From Energy Vampires
Hypnosis with Embedded Supraliminal Track
1 CD - $34.95
For INSTANT DOWNLOAD click here
Protect Yourself From Energy Vampires
Subliminal with Audible Intro Suggestions
1 CD - $14.95
For INSTANT DOWNLOAD click here
Protect Yourself From Energy Vampires
Daytime Silent Subliminal
1 CD - $14.95
Protect Yourself From Energy Vampires
Nighttime Silent Subliminal Sleep Programming
1 CD - $14.95
For INSTANT DOWNLOAD click here
Protect Yourself From Energy Vampires
Supraliminal with Audible Intro Suggestions
1 CD - $19.95
For INSTANT DOWNLOAD click here
Protect Yourself From Energy Vampires
Daytime Silent Supraliminal
1 CD - $19.95
Protect Yourself From Energy Vampires
Nighttime Silent Supraliminal Sleep Programming
1 CD - $19.95
For INSTANT DOWNLOAD click here
Protect Yourself From Energy Vampires
Empowering Affirmations
1 CD - $17.95
Protect Yourself From Energy Vampires
Empowering Affirmations with Embedded Subliminal Track
1 CD - $22.95
Protect Yourself From Energy Vampires
Empowering Affirmations with Embedded Subliminal and Supraliminal Tracks
1 CD - $27.95
For INSTANT DOWNLOAD click here
Protect Yourself From Energy Vampires
Supraliminal Plus
1 CD - $24.95
For INSTANT DOWNLOAD click here
Protect Yourself From Energy Vampires
Hypnosis + Subliminal
2 CDs - $29.95
Protect Yourself From Energy Vampires
Hypnosis + Supraliminal
2 CDs - $34.95
Protect Yourself From Energy Vampires
Hypnosis + Supraliminal Plus
2 CDs - $39.95
Protect Yourself From Energy Vampires
Hypnosis + Subliminal + Supraliminal Plus
3 CDs - $49.95
For INSTANT DOWNLOAD click here
Protect Yourself From Energy Vampires
Hypnosis + Supraliminal + Supraliminal Plus
3 CDs - $54.95
For INSTANT DOWNLOAD click here
Protect Yourself From Energy Vampires
Hypnosis + Subliminal + Supraliminal + Supraliminal Plus
4 CDs - $64.95
Protect Yourself From Energy Vampires
Hypnosis + Empowering Affirmations + Subliminal + Supraliminal + Supraliminal Plus
5 CDs - $79.95