Become Hard Like a Rock with Deep Trance Hypnosis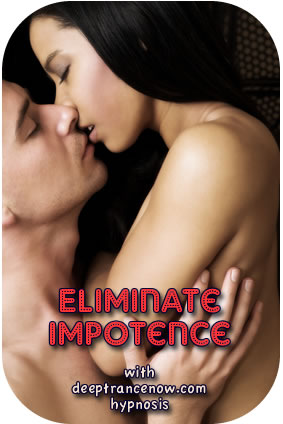 Erectyle dysfunction (ED) or impotence is a sexual dysfunction characterized by the inability to develop or maintain an erection of the penis sufficient for satisfactory sexual performance. An erection occurs as the blood enters and retains in a sponge-like part within the penis. The process is most often initiated as a result of sexual desire, when signals are transmitted from the brain to nerves in the pelvis.
Impotence occurs when, despite arousal, erection either doesn't happen or is difficult to produce or sustain. Some organic causes of impotence are cardiovasclar diseases, diabetes, hormonal insufficiencies, and side effects from drugs. Many times, the primary cause of impotence is psychological, where the erection is challenging or impossible due to thoughts or feelings, rather than physical impossibility. These thoughts and feelings may relate to some event that happened in the past, to one's identification with a sense of inner power, success, masculinity, with one's feelings toward the current relationship, with cultural or even religious customs and expectations.
Provided you have no physiological damages, Eliminate Impotence with Hypnosis CDs will help you to remove the psychological causes of impotence.They will also bring excitement to your sex life and help you achieve and maintain an erection.
Although Eliminate Impotence subliminal, supraliminal and supraliminal plus CDs can give you the results you desire on their own, they are best used as boosters to working with hypnosis CD.
Eliminate Impotence Deep Trance Now Hypnosis Programs
» Hypnosis Newsletter and Free Downloads
If you want CDs, click on "add to cart" button.
If you want Instant mp3 Downloads,
click on the blue Instant Download link.

Eliminate Impotence
Hypnosis
1 CD - $24.95
For INSTANT DOWNLOAD click here
Eliminate Impotence
Hypnosis with Embedded Subliminal Track
1 CD - $29.95
Eliminate Impotence
Hypnosis with Embedded Supraliminal Track
1 CD - $34.95
Eliminate Impotence
Subliminal with Audible Intro Suggestions
1 CD - $14.95
For INSTANT DOWNLOAD click here
Eliminate Impotence
Daytime Silent Subliminal
1 CD - $14.95
Eliminate Impotence
Nighttime Silent Subliminal Sleep Programming
1 CD - $14.95
For INSTANT DOWNLOAD click here
Eliminate Impotence
Supraliminal with Audible Intro Suggestions
1 CD - $19.95
For INSTANT DOWNLOAD click here
Eliminate Impotence
Daytime Silent Supraliminal
1 CD - $19.95
For INSTANT DOWNLOAD click here
Eliminate Impotence
Nighttime Silent Supraliminal Sleep Programming
1 CD - $19.95
For INSTANT DOWNLOAD click here
Eliminate Impotence
Empowering Affirmations
1 CD - $17.95
Eliminate Impotence
Empowering Affirmations with Embedded Subliminal Track
1 CD - $22.95
Eliminate Impotence
Empowering Affirmations with Embedded Subliminal and Supraliminal Tracks
1 CD - $27.95
Eliminate Impotence
Supraliminal Plus
1 CD - $24.95
For INSTANT DOWNLOAD click here
Eliminate Impotence
Hypnosis + Subliminal
2 CDs - $29.95
For INSTANT DOWNLOAD click here
Eliminate Impotence
Hypnosis + Supraliminal
2 CDs - $34.95
For INSTANT DOWNLOAD click here
Eliminate Impotence
Hypnosis + Supraliminal Plus
2 CDs - $39.95
For INSTANT DOWNLOAD click here
Eliminate Impotence
Hypnosis + Subliminal + Supraliminal Plus
3 CDs - $49.95
For INSTANT DOWNLOAD click here
Eliminate Impotence
Hypnosis + Supraliminal + Supraliminal Plus
3 CDs - $54.95
For INSTANT DOWNLOAD click here
Eliminate Impotence
Hypnosis + Subliminal + Supraliminal + Supraliminal Plus
4 CDs - $64.95
Eliminate Impotence
Hypnosis + Empowering Affirmations + Subliminal + Supraliminal + Supraliminal Plus
5 CDs - $79.95
»All Hypnosis CDs and mp3 Titles