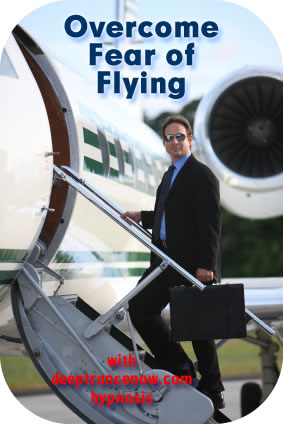 Fear of flying may be a distinct fear in itself, or it may be a combination of different fears - fear of heights, fear of enclosed spaces, fear of open spaces, fear of water or drowning, fear of turbulence, fear of falling, fear of terrorism, fear of injury, and ultimately the fear of death.
Sometimes fear of flying may begin as a mild form of anxiety and in some people culminate in a panic attack. In some people the fear of flying may bring such a great distress that they may feel sick in the stomach and vomit and the mere sight or thought of flying in an airplane.
The anxiety may be caused by some earlier traumatic experience, or because the individual has been watching, reading or listening to news and through repetition has began to impress the images and associated feelings of impending doom as something that may be part of his experience.
Just like we can fill our minds with thoughts that trigger feelings of wellbeing, so we can fill our minds with thoughts that are unsettling, and that cause us all kinds of worries, anxieties and fears.
Hypnosis and NLP can help to re-wire your neurology, to replace images and feelings that are disconcerting, with those that make you feel calm, relaxed, and safe. Hypnosis, subliminal, supraliminal and supraliminal plus recordings can also help you to program your subconscious mind to alert you if you are in any genuine danger, so that you can relax and enjoy your life at other times. You can also program your mind to direct your actions in a way that will ensure that you are safe wherever you may go.
Brainwave entrainment can help you to condition your mind and your neurology to relax and be calm when you need to.
Sanskrit mantras can help you to enjoy safe flying and safe journey wherever you go.
Overcome Fear of Flying
Deep Trance Now Hypnosis CDs and mp3 downloads
» Hypnosis Newsletter and Free Downloads
If you want CDs, click on "add to cart" button.
If you want Instant mp3 Downloads,
click on the blue Instant Download link.

Overcome Fear of Flying
Hypnosis
1 CD - $24.95
For INSTANT DOWNLOAD click here
Overcome Fear of Flying
Hypnosis with Embedded Subliminal Track
1 CD - $29.95
Overcome Fear of Flying
Hypnosis with Embedded Supraliminal Track
1 CD - $34.95
Overcome Fear of Flying
Subliminal with Audible Intro Suggestions
1 CD - $14.95
Overcome Fear of Flying
Daytime Silent Subliminal
1 CD - $14.95
Overcome Fear of Flying
Nighttime Silent Subliminal Sleep Programming
1 CD - $14.95
Overcome Fear of Flying
Supraliminal with Audible Intro Suggestions
1 CD - $19.95
Overcome Fear of Flying
Daytime Silent Supraliminal
1 CD - $19.95
Overcome Fear of Flying
Nighttime Silent Supraliminal Sleep Programming
1 CD - $19.95
Overcome Fear of Flying
Empowering Affirmations
1 CD - $17.95
Overcome Fear of Flying
Empowering Affirmations with Embedded Subliminal Track
1 CD - $22.95
Overcome Fear of Flying
Empowering Affirmations with Embedded Subliminal and Supraliminal Tracks
1 CD - $27.95
Overcome Fear of Flying
Supraliminal Plus
1 CD - $24.95
For INSTANT DOWNLOAD click here
Brainwave Entrainment to calm and relax your nerves
1 CD - $24.95
Sanskrit Mantras for Safe Travel
1 CD - $24.95
Overcome Fear of Flying
Hypnosis + Subliminal
2 CDs - $29.95
Overcome Fear of Flying
Hypnosis + Supraliminal
2 CDs - $34.95
Overcome Fear of Flying
Hypnosis + Supraliminal Plus
2 CDs - $39.95
Overcome Fear of Flying
Hypnosis + Subliminal + Supraliminal Plus
3 CDs - $49.95
Overcome Fear of Flying
Hypnosis + Supraliminal + Supraliminal Plus
3 CDs - $54.95
Overcome Fear of Flying
Hypnosis + Subliminal + Supraliminal + Supraliminal Plus
4 CDs - $64.95
Overcome Fear of Flying
Hypnosis + Empowering Affirmations + Subliminal + Supraliminal + Supraliminal Plus
5 CDs - $79.95