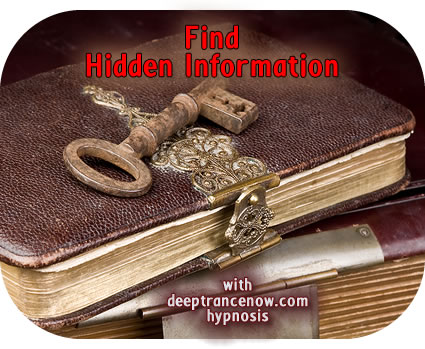 Find Hidden Information Hypnosis CD will guide you through one method of uncovering hidden information - something that you'd like to know and have no way of finding out through any other means. Another method which works equally well is through dreaming. I've used both methods successfully.
Depending on what is the nature of the information you desire revealed, there are infinite possibilities regarding how will such information be revealed to you. Sometimes the circumstances in the outer world will arrange themselves in such a way that it will be easy for you to find out what you're after.
I have located several people in this way - people I very much wanted to find and didn't have a clue how to go about it. One was a young guy whom I was saw a couple of times about 15 years ago who for whatever reason gave me a fake name. He gave a phone number from the place where he worked, but each time I phoned - of course, they never heard of anyone with such name.
Each time he picked me up, he showed up with a brand new and very expensive car - like Corvette - and each time different car. He took me few times to a house, which I wasn't sure if it belonged to him, and none of these expensive cars were ever parked there.
More than anything else I was puzzled why he gave me a fake name and I decided to find out who is he, so I essentially programmed my mind with the idea that whatever I desire or need to know about that person will be revealed to me.
Interesting thing happened after I made my mental request. Someone in that mysterious house placed a sign for sale in front one of the other cars that were parked there. It was a lovely opportunity to find out who lives in the house.
I was too excited about this opportunity, so I went there with a friend, who did most of the talking and who asked if we could bring a mechanic to check on the car. The man who answered the door, said yes. Then my friend asked if we could have a phone number to arrange an appointment. The man gave us the phone number and said that sometimes his son answers the phone. I couldn't restrain myself and blurted out "And what is your son's name?" The man gave us the name.
I then phoned the place of work with the name I just got and sure enough, the guy worked there. Then I showed up there. The guy turned pale. I calmed him down and said that I merely wanted to demonstrate that one can always find what one desires to find out. I left him with my blessing.
Since that family never sold the car, I can only imagine that the only reason it had " for sale" sign for few days, was to give me an opportunity to find the information I was after. When you really want to find some information, the universe will arrange itself in miraculous ways to open the way for you.
Other times, the information you may be looking for may come through a book, through some person, or in any other way that is appropriate for the situation.
Find Hidden Information
Deep Trance Now Hypnosis CDs and mp3 downloads
» Hypnosis Newsletter and Free Downloads
Find Hidden Information Supraliminal Plus Demo
If you want CDs, click on "add to cart" button.
If you want Instant mp3 Downloads,
click on the blue Instant Download link.

Find Hidden Information
Hypnosis
1 CD - $24.95
For INSTANT DOWNLOAD click here
Find Hidden Information
Hypnosis with Embedded Subliminal Track
1 CD - $29.95
Find Hidden Information
Hypnosis with Embedded Supraliminal Track
1 CD - $34.95
Find Hidden Information
Subliminal with Audible Intro Suggestions
1 CD - $14.95
For INSTANT DOWNLOAD click here
Find Hidden Information
Daytime Silent Subliminal
1 CD - $14.95
Find Hidden Information
Nighttime Silent Subliminal Sleep Programming
1 CD - $14.95
For INSTANT DOWNLOAD click here
Find Hidden Information
Supraliminal with Audible Intro Suggestions
1 CD - $19.95
For INSTANT DOWNLOAD click here
Find Hidden Information
Daytime Silent Supraliminal
1 CD - $19.95
Find Hidden Information
Nighttime Silent Supraliminal Sleep Programming
1 CD - $19.95
For INSTANT DOWNLOAD click here
Find Hidden Information
Empowering Affirmations
1 CD - $17.95
Find Hidden Information
Empowering Affirmations with Embedded Subliminal Track
1 CD - $22.95
Find Hidden Information
Empowering Affirmations with Embedded Subliminal and Supraliminal Tracks
1 CD - $27.95
Find Hidden Information
Supraliminal Plus
1 CD - $24.95
For INSTANT DOWNLOAD click here
Find Hidden Information
Hypnosis + Subliminal
2 CDs - $29.95
Find Hidden Information
Hypnosis + Supraliminal
2 CDs - $34.95
Find Hidden Information
Hypnosis + Supraliminal Plus
2 CDs - $39.95
Find Hidden Information
Hypnosis + Subliminal + Supraliminal Plus
3 CDs - $49.95
Find Hidden Information
Hypnosis + Supraliminal + Supraliminal Plus
3 CDs - $54.95
Find Hidden Information
Hypnosis + Subliminal + Supraliminal + Supraliminal Plus
4 CDs - $64.95
Find Hidden Information
Hypnosis + Empowering Affirmations + Subliminal + Supraliminal + Supraliminal Plus
5 CDs - $79.95