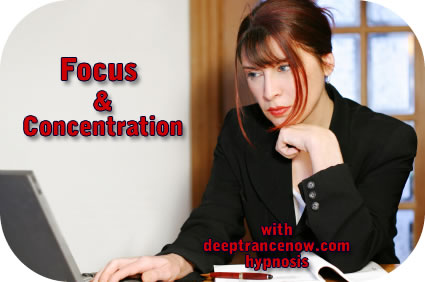 Deep Trance Now Focus and Concentration Hypnosis CD will guide you through different tricks and techniques that will help you to focus and concentrated more effectively naturally for longer and longer periods of time.
Focus and Concentration subliminal, supraliminal and supraliminal plus CDs contain supporting direct suggestion for focus and concentration. For best results use these recordings in conjunction with Focus and Concentration hypnosis CD.
Focus and Concentration brainwave entrainment CD can help you to enter the optimal state of mind for focus and concentration whenever you need to focus and concentrate. This recording does not contain any verbal suggestion and for best results I recommend that you use it with the above Deep Trance Now recordings.
Focus and Concentration Deep Trance Now Hypnosis Programs
» Hypnosis Newsletter and Free Downloads
If you want CDs, click on "add to cart" button.
If you want Instant mp3 Downloads,
click on the blue Instant Download link.

Focus and Concentration
Hypnosis
1 CD - $24.95
For INSTANT DOWNLOAD click here
Focus and Concentration
Hypnosis with Embedded Subliminal Track
1 CD - $29.95
Focus and Concentration
Hypnosis with Embedded Supraliminal Track
1 CD - $34.95
Focus and Concentration
Subliminal with Audible Intro Suggestions
1 CD - $14.95
For INSTANT DOWNLOAD click here
Focus and Concentration
Daytime Silent Subliminal
1 CD - $14.95
For INSTANT DOWNLOAD click here
Focus and Concentration
Nighttime Silent Subliminal Sleep Programming
1 CD - $14.95
For INSTANT DOWNLOAD click here
Focus and Concentration
Supraliminal with Audible Intro Suggestions
1 CD - $19.95
For INSTANT DOWNLOAD click here
Focus and Concentration
Daytime Silent Supraliminal
1 CD - $19.95
For INSTANT DOWNLOAD click here
Focus and Concentration
Nighttime Silent Supraliminal Sleep Programming
1 CD - $19.95
For INSTANT DOWNLOAD click here
Focus and Concentration
Empowering Affirmations
1 CD - $17.95
Focus and Concentration
Empowering Affirmations with Embedded Subliminal Track
1 CD - $22.95
Focus and Concentration
Empowering Affirmations with Embedded Subliminal and Supraliminal Tracks
1 CD - $27.95
Focus and Concentration
Supraliminal Plus
1 CD - $24.95
For INSTANT DOWNLOAD click here
Focus and Concentration
Brainwave Entrainment
1 CD - $24.95
For INSTANT DOWNLOAD click here
Focus and Concentration
Hypnosis + Subliminal
2 CDs - $29.95
For INSTANT DOWNLOAD click here
Focus and Concentration
Hypnosis + Supraliminal
2 CDs - $34.95
For INSTANT DOWNLOAD click here
Focus and Concentration
Hypnosis + Supraliminal Plus
2 CDs - $39.95
For INSTANT DOWNLOAD click here
Focus and Concentration
Hypnosis + Subliminal + Supraliminal Plus
3 CDs - $49.95
For INSTANT DOWNLOAD click here
Focus and Concentration
Hypnosis + Supraliminal + Supraliminal Plus
3 CDs - $54.95
For INSTANT DOWNLOAD click here
Focus and Concentration
Hypnosis + Subliminal + Supraliminal + Supraliminal Plus
4 CDs - $64.95
Focus and Concentration
Hypnosis + Empowering Affirmations + Subliminal + Supraliminal + Supraliminal Plus
5 CDs - $79.95
Focus and Concentration
Hypnosis + Empowering Affirmations + Subliminal + Supraliminal + Supraliminal Plus + Brainwave Entrainment
6 CDs - $89.95