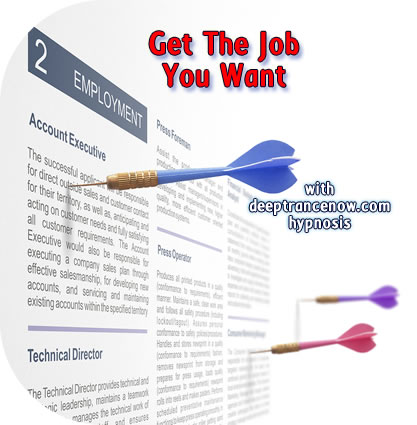 Can you imagine applying for the job that you'd love doing in a place where you'd love to work and getting it easily and effortlessly as if the position opened exactly for you?
This set of CDs and mp3s is designed to help you to program your mind to do exactly that - get the job you'd love doing, so that you'll feel as if you were playing and having fun, doing something you are truly and genuinely interested in doing.
» You may also like other CDs from the Financial Wealth collection
Get The Job You Want - Land the Job Of Your Dreams
Deep Trance Now Hypnosis CDs and mp3 downloads
» Hypnosis Newsletter and Free Downloads
Get The Job You Want Hypnosis Demo
If you want CDs, click on "add to cart" button.
If you want Instant mp3 Downloads,
click on the blue Instant Download link.