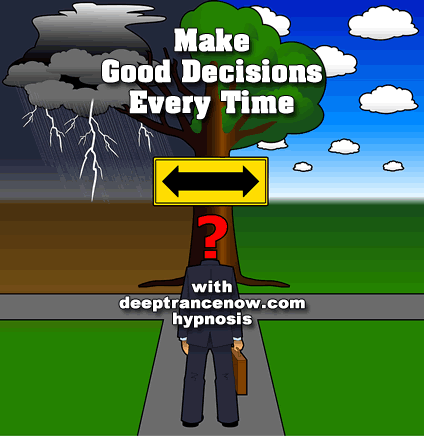 Perhaps sometimes you make decisions based on a hunch and it works very well for you in some situations. Other times, the situation may be complex and critical and you have to think fast on your feet, buy relying purely on your intuition may not be appropriate for that particular situation. Besides, you would like to be sure that you made a good decision, and not a hit-and-miss decision, decision made based on a flip of a coin.
Make Good Decisions Every Time CDs and mp3s will guide through a systematic and proven process for making good decisions every time, and once you have made a decision, you'll be able to sleep in peace, rather than wonder whether it's would've been better if you picked a different choice, because you will know with certainty that you have made a good decision.
Make Good Decisions Every Time
Deep Trance Now Hypnosis CDs and mp3 downloads
» Hypnosis Newsletter and Free Downloads
If you want CDs, click on "add to cart" button.
If you want Instant mp3 Downloads,
click on the blue Instant Download link.

Make Good Decisions Every Time
Hypnosis
1 CD - $24.95
Make Good Decisions Every Time
Hypnosis with Embedded Subliminal Track
1 CD - $29.95
Make Good Decisions Every Time
Hypnosis with Embedded Supraliminal Track
1 CD - $34.95
Make Good Decisions Every Time
Subliminal with Audible Intro Suggestions
1 CD - $14.95
Make Good Decisions Every Time
Daytime Silent Subliminal
1 CD - $14.95
Make Good Decisions Every Time
Nighttime Silent Subliminal Sleep Programming
1 CD - $14.95
Make Good Decisions Every Time
Supraliminal with Audible Intro Suggestions
1 CD - $19.95
Make Good Decisions Every Time
Daytime Silent Supraliminal
1 CD - $19.95
Make Good Decisions Every Time
Nighttime Silent Supraliminal Sleep Programming
1 CD - $19.95
Make Good Decisions Every Time
Empowering Affirmations
1 CD - $17.95
Make Good Decisions Every Time
Empowering Affirmations with Embedded Subliminal Track
1 CD - $22.95
Make Good Decisions Every Time
Empowering Affirmations with Embedded Subliminal and Supraliminal Tracks
1 CD - $27.95
For INSTANT DOWNLOAD click here
Make Good Decisions Every Time
Supraliminal Plus
1 CD - $24.95
Make Good Decisions Every Time
Brainwave Entrainment
1 CD - $24.95
Make Good Decisions Every Time
Sanskrit Mantras
1 CD - $24.95
Make Good Decisions Every Time
Hypnosis + Subliminal
2 CDs - $29.95
Make Good Decisions Every Time
Hypnosis + Supraliminal
2 CDs - $34.95
Make Good Decisions Every Time
Hypnosis + Supraliminal Plus
2 CDs - $39.95
Make Good Decisions Every Time
Hypnosis + Subliminal + Supraliminal Plus
3 CDs - $49.95
Make Good Decisions Every Time
Hypnosis + Supraliminal + Supraliminal Plus
3 CDs - $54.95
Make Good Decisions Every Time
Hypnosis + Subliminal + Supraliminal + Supraliminal Plus
4 CDs - $64.95
Make Good Decisions Every Time
Hypnosis + Empowering Affirmations + Subliminal + Supraliminal + Supraliminal Plus
5 CDs - $79.95