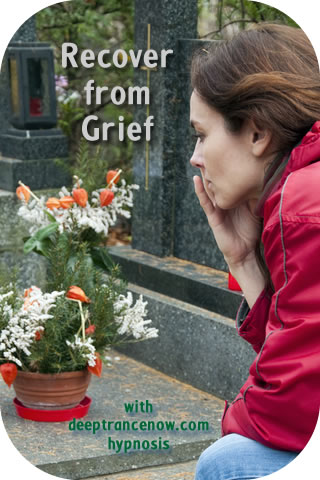 Grief is the feeling we experience when someone or something leaves our lives and the thought that we have lost them permanently greatly disturbs us - even more so when our entire life was focused upon that someone or something and with the loss of a person or a thing we begin to feel as though our life has lost all meaning. Dark thoughts enter our minds together with inability to sleep or eat. We may even feel that it would've been better if we perished together with the person or thing we lost, as life may seem unbearable and pointless.
It is a fact of life that everything in the physical world constantly changes. When we become deeply attached to someone or something and that someone or something gave meaning and identity to our lives, we may not only feel that we lost something outside of ourselves, but also that we lost a part of our own identity.
It may be comforting to know that that which is truly meaningful in our lives we can never lose. While the form of something may leave our lives, the essence of it can forever remain within us. And even though it may take some time to heal and get used to the change, we do have within us the power to re-create our lives, to re-discover the meaning, to recover our sense of identity and move on enriched and empowered.
Recover From Grief CDs are designed to help you to say good-bye to that which you have lost and to move on with your life in a way and in a time frame that is appropriate for you.
Recover From Grief
Deep Trance Now Hypnosis CDs and mp3 downloads
» Hypnosis Newsletter and Free Downloads
If you want CDs, click on "add to cart" button.
If you want Instant mp3 Downloads,
click on the blue Instant Download link.

Recover From Grief
Hypnosis
1 CD - $24.95
For INSTANT DOWNLOAD click here
Recover From Grief
Hypnosis with Embedded Subliminal Track
1 CD - $29.95
Recover From Grief
Hypnosis with Embedded Supraliminal Track
1 CD - $34.95
Recover From Grief
Subliminal with Audible Intro Suggestions
1 CD - $14.95
For INSTANT DOWNLOAD click here
Recover From Grief
Daytime Silent Subliminal
1 CD - $14.95
For INSTANT DOWNLOAD click here
Recover From Grief
Nighttime Silent Subliminal Sleep Programming
1 CD - $14.95
Recover From Grief
Supraliminal with Audible Intro Suggestions
1 CD - $19.95
For INSTANT DOWNLOAD click here
Recover From Grief
Daytime Silent Supraliminal
1 CD - $19.95
Recover From Grief
Nighttime Silent Supraliminal Sleep Programming
1 CD - $19.95
Recover From Grief
Empowering Affirmations
1 CD - $17.95
Recover From Grief
Empowering Affirmations with Embedded Subliminal Track
1 CD - $22.95
Recover From Grief
Empowering Affirmations with Embedded Subliminal and Supraliminal Tracks
1 CD - $27.95
Recover From Grief
Supraliminal Plus
1 CD - $24.95
For INSTANT DOWNLOAD click here
Recover From Grief
Hypnosis + Subliminal
2 CDs - $29.95
For INSTANT DOWNLOAD click here
Recover From Grief
Hypnosis + Supraliminal
2 CDs - $34.95
For INSTANT DOWNLOAD click here
Recover From Grief
Hypnosis + Supraliminal Plus
2 CDs - $39.95
For INSTANT DOWNLOAD click here
Recover From Grief
Hypnosis + Subliminal + Supraliminal Plus
3 CDs - $49.95
For INSTANT DOWNLOAD click here
Recover From Grief
Hypnosis + Supraliminal + Supraliminal Plus
3 CDs - $54.95
For INSTANT DOWNLOAD click here
Recover From Grief
Hypnosis + Subliminal + Supraliminal + Supraliminal Plus
4 CDs - $64.95
Recover From Grief
Hypnosis + Empowering Affirmations + Subliminal + Supraliminal + Supraliminal Plus
5 CDs - $79.95