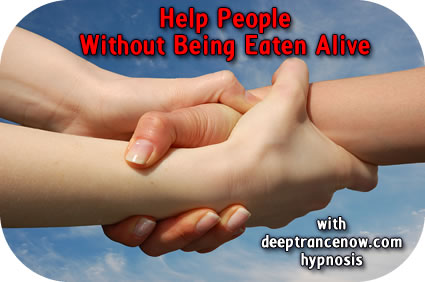 Perhaps you are in a helping profession or you simply have a good heart and you enjoy helping people and most of the time it makes you feel good, it gives you even a sense of purpose in life, a meaning.
You enjoy sharing your talents and abilities with the world, doing what you can to make someone else breathe a little bit easier, and then every once in a while you come across people who look upon you as a fountain of inexhaustible supply of energy, knowledge and material supplies, who are slowly but surely trying to eat up or take whatever they can from you.
You feel as if you have encountered a cosmic black hole, someone who leaves you depleted not only energetically, but in any way you were willing to share what you've got. Moreover, as your energy level begins to drop, and your finances are diminishing and you are beginning to feel as if you've embarked on a bad luck train. Maybe you have even discovered that you have begun to develop all kinds of aches and pains and an assortment of health problems, as even your body begins to give you warning signals that something's got to change.
You look at the time you've been spending, only to realize that helping someone who is unwilling to help himself has been for the most part wasted. Your life is now twice as hard, because instead of just offering a helping hand to another, you've started to carry the burden of those who look upon you as a source of everything they need. You have a feeling - that's not the way it's supposed to be and you got to change something.
The CDs on these page are designed to help you to set the boundaries and to use your talents and abilities to help people in a mutually constructive way, in a way that will truly leave you feeling good rather than depleted, in a way that you can invest your time, energy and resources wisely. It is important knowing whom to help and to what extent and when it is time to let the person grow on his own or refer the person who needs help to someone else.
Help Others Without Being Eaten Alive
Deep Trance Now Hypnosis CDs and mp3 Downloads
» Hypnosis Newsletter and Free Downloads
Help Others Without Being Eaten Alive
Hypnosis
1 CD - $24.95
For INSTANT DOWNLOAD click here
Help Others Without Being Eaten Alive
Hypnosis with Embedded Subliminal Track
1 CD - $29.95
Help Others Without Being Eaten Alive
Hypnosis with Embedded Supraliminal Track
1 CD - $34.95
For INSTANT DOWNLOAD click here
Help Others Without Being Eaten Alive
Subliminal with Audible Intro Suggestions
1 CD - $14.95
For INSTANT DOWNLOAD click here
Help Others Without Being Eaten Alive
Daytime Silent Subliminal
1 CD - $14.95
Help Others Without Being Eaten Alive
Nighttime Silent Subliminal Sleep Programming
1 CD - $14.95
For INSTANT DOWNLOAD click here
Help Others Without Being Eaten Alive
Supraliminal with Audible Intro Suggestions
1 CD - $19.95
For INSTANT DOWNLOAD click here
Help Others Without Being Eaten Alive
Daytime Silent Supraliminal
1 CD - $19.95
Help Others Without Being Eaten Alive
Nighttime Silent Supraliminal Sleep Programming
1 CD - $19.95
For INSTANT DOWNLOAD click here
Help Others Without Being Eaten Alive
Empowering Affirmations
1 CD - $17.95
Help Others Without Being Eaten Alive
Empowering Affirmations with Embedded Subliminal Track
1 CD - $22.95
Help Others Without Being Eaten Alive
Empowering Affirmations with Embedded Subliminal and Supraliminal Tracks
1 CD - $27.95
Help Others Without Being Eaten Alive
Supraliminal Plus
1 CD - $24.95
For INSTANT DOWNLOAD click here
Help Others Without Being Eaten Alive
Hypnosis + Subliminal
2 CDs - $29.95
For INSTANT DOWNLOAD click here
Help Others Without Being Eaten Alive
Hypnosis + Supraliminal
2 CDs - $34.95
For INSTANT DOWNLOAD click here
Help Others Without Being Eaten Alive
Hypnosis + Supraliminal Plus
2 CDs - $39.95
For INSTANT DOWNLOAD click here
Help Others Without Being Eaten Alive
Hypnosis + Subliminal + Supraliminal Plus
3 CDs - $49.95
For INSTANT DOWNLOAD click here
Help Others Without Being Eaten Alive
Hypnosis + Supraliminal + Supraliminal Plus
3 CDs - $54.95
For INSTANT DOWNLOAD click here
Help Others Without Being Eaten Alive
Hypnosis + Subliminal + Supraliminal + Supraliminal Plus
4 CDs - $64.95
Help Others Without Being Eaten Alive
Hypnosis + Empowering Affirmations + Subliminal + Supraliminal + Supraliminal Plus
5 CDs - $79.95