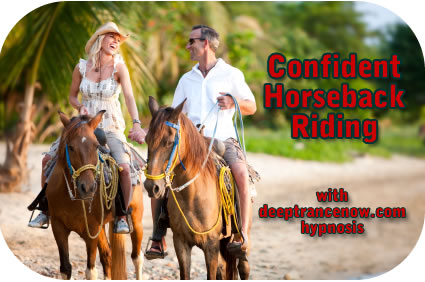 Deep Trance Now Confident Horse-Riding Hypnosis CD will guide you through a step-by-step relaxation and mental techniques for getting into an optimal state of mind to ride a horse - by preparing yourself mentally and physically for horseback riding, establishing rapport with the horse, as well as being in charge and managing the horse while horseback riding.
Deep Trance Now Confident Horseback Riding subliminal, supraliminal and supraliminal plus recordings contain supporting suggestions and while they may very well work alone, for best and fastest results you should use them in conjunction with Confident Horseback Riding Hypnosis CD, because the hypnosis CD will help you to condition your mind and neurology with optimal state or mind as well as unconscious responses while riding a horse.

Confident Horse-Riding
Deep Trance Now Hypnosis Programs
» Click here to learn more about Different Types of Recordings
» Subscribe to Deep Trance Now Hypnosis Newsletter and listen to Free Downloads
» Click here for information about Mail Order, Shipping or ordering MP3 Downloads
If you want CDs, click on "add to cart" button.
If you want Instant mp3 Downloads,
click on the blue Instant Download link.