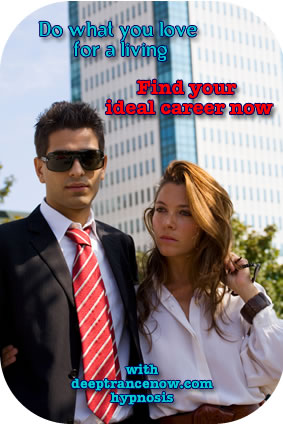 Each one of us has particular interests, preferences, affinities, talents and abilities - those we have developed and those we would like to develop and which suit our personalities and lifestyle we'd like to enjoy.
When you are engaged in your ideal career, your work feels like play; you are looking forward to your work, you are productive and you live a prosperous life. If you don't love what you are doing for a living, it may be a good time to find out what kind of work would make you truly happy, what kind of work would give you a deep sense of purpose and fulfillment.
Find your ideal career hypnosis CD is designed to help you to discover your ideal career, that which you would enjoy doing, that which may be challenging for you, yet at the same time you would love it, because it would feel like playing, and you'd be happy to do it all day long - a career that would help you to express yourself, to express your talents and abilities, a career that would make you feel more alive, a career that would feel right for you, a career that would make you like "this is what I was born to do with my life".
Find your ideal career subliminal, supraliminal and supraliminal plus CDs contain supporting direct suggestions designed to reinforce the work you do with hypnosis CDs. For best results, you should use subliminal, supraliminal and/or supraliinal plus CDs in conjunction with Find your ideal career hypnosis CD.
Find Your Ideal Career
Deep Trance Now Hypnosis CDs and mp3 downloads
» Hypnosis Newsletter and Free Downloads
If you want CDs, click on "add to cart" button.
If you want Instant mp3 Downloads,
click on the blue Instant Download link.

» You may also like other CDs from the Financial Wealth collection