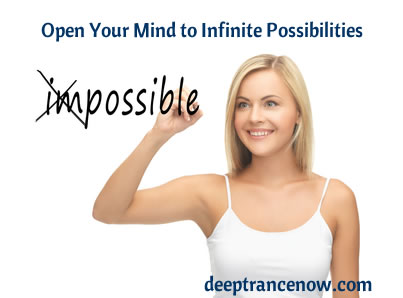 If you've been exploring what can you accomplish using the power of your mind, you already know that to create a radically different experience, you need to begin with a shift in consciousness.
If you look at the world the same way as last year, if you think the same way you were thinking last year, your life experience will be similar to last year's, except for the changes that are part of daily life.
And so I invite you to start your life anew. Put aside last year's limiting perceptions and open your mind to infinite possibilities. Acknowledge that within you, you have access to all the knowledge and all the power you will ever need to have any experience you desire. Commit to get to know and hold onto that within you which knows of no obstacles.
Sometimes, a shift in consciousness is all it takes to bring you the experience you desire. Many people discover that simply by opening their minds to new possibilities, the problems that plagued them vanish.
Open Your Mind To Infinite Possibilities
Deep Trance Now Hypnosis CDs and mp3 downloads
» Hypnosis Newsletter and Free Downloads
If you want CDs, click on "add to cart" button.
If you want Instant mp3 Downloads,
click on the blue Instant Download link.

Open Your Mind To Infinite Possibilities
Hypnosis
1 CD - $24.95
For INSTANT DOWNLOAD click here
Open Your Mind To Infinite Possibilities
Hypnosis with Embedded Subliminal Track
1 CD - $29.95
Open Your Mind To Infinite Possibilities
Hypnosis with Embedded Supraliminal Track
1 CD - $34.95
For INSTANT DOWNLOAD click here
Open Your Mind To Infinite Possibilities
Subliminal with Audible Intro Suggestions
1 CD - $14.95
For INSTANT DOWNLOAD click here
Open Your Mind To Infinite Possibilities
Daytime Silent Subliminal
1 CD - $14.95
For INSTANT DOWNLOAD click here
Open Your Mind To Infinite Possibilities
Nighttime Silent Subliminal Sleep Programming
1 CD - $14.95
For INSTANT DOWNLOAD click here
Open Your Mind To Infinite Possibilities
Supraliminal with Audible Intro Suggestions
1 CD - $19.95
For INSTANT DOWNLOAD click here
Open Your Mind To Infinite Possibilities
Daytime Silent Supraliminal
1 CD - $19.95
For INSTANT DOWNLOAD click here
Open Your Mind To Infinite Possibilities
Nighttime Silent Supraliminal Sleep Programming
1 CD - $19.95
For INSTANT DOWNLOAD click here
Open Your Mind To Infinite Possibilities
Empowering Affirmations
1 CD - $17.95
Open Your Mind To Infinite Possibilities
Empowering Affirmations with Embedded Subliminal Track
1 CD - $22.95
Open Your Mind To Infinite Possibilities
Empowering Affirmations with Embedded Subliminal and Supraliminal Tracks
1 CD - $27.95
For INSTANT DOWNLOAD click here
Open Your Mind To Infinite Possibilities
Supraliminal Plus
1 CD - $24.95
For INSTANT DOWNLOAD click here
Open Your Mind To Infinite Possibilities
Hypnosis + Subliminal
2 CDs - $29.95
For INSTANT DOWNLOAD click here
Open Your Mind To Infinite Possibilities
Hypnosis + Supraliminal
2 CDs - $34.95
For INSTANT DOWNLOAD click here
Open Your Mind To Infinite Possibilities
Hypnosis + Supraliminal Plus
2 CDs - $39.95
For INSTANT DOWNLOAD click here
Open Your Mind To Infinite Possibilities
Hypnosis + Subliminal + Supraliminal Plus
3 CDs - $49.95
For INSTANT DOWNLOAD click here
Open Your Mind To Infinite Possibilities
Hypnosis + Supraliminal + Supraliminal Plus
3 CDs - $54.95
For INSTANT DOWNLOAD click here
Open Your Mind To Infinite Possibilities
Hypnosis + Subliminal + Supraliminal + Supraliminal Plus
4 CDs - $64.95
Open Your Mind To Infinite Possibilities
Hypnosis + Empowering Affirmations + Subliminal + Supraliminal + Supraliminal Plus
5 CDs - $79.95