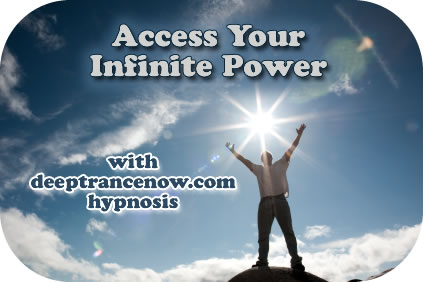 Within you is the power to create anything you desire in your life. Access Your Infinite Power program is designed to help you deepen your awareness of this power within you, to realize that there is only one power expressing through everything, and to learn how to use it to create a fulfilling life.
For best results, it is recommended that you work with hypnosis recording as the main recording, and to use subliminal, supraliminal and/or supraliminal plus recordings as boosters.
Infinite Power hypnosis recording is designed to help you to subjectively experience this power within you, while listening to the recordings, while subliminal, supraliminal and supraliminal plus recordings are designed to help you boost and reinforce that subjective experience of power.
The more you acknowledge this power within you, the faster will you begin to manifest anything you set your mind to, because the more energy, the more power will be expressing through you. Eventually you will have more and more experiences, where one moment you think of something, and the next moment you experience it in your outer world and the more will your inner world feel as "real" and the outer world as a "dream", or simply as an "effect" of your inner world. In the process, you will develop a mastery of your life or if you like the term - a genuine magician.
Infinite Power
Deep Trance Now Hypnosis CDs and mp3 downloads
» Hypnosis Newsletter and Free Downloads

If you want CDs, click on "add to cart" button.
If you want Instant mp3 Downloads,
click on the blue Instant Download link.
You may also like Develop Faith recordings.