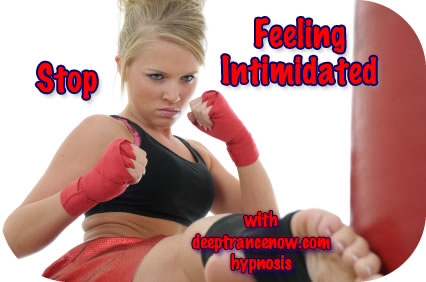 The definition of intimidation is to frighten into submission, compliance or acquiescence. Other words used for the same behavior are to browbeat, bulldoze, cow, bully, bludgeon. Browbeat suggests the persistent application of high-handed, disdainful, or imperious tactics. Bulldoze connotes the leveling of all spirit of opposition. Cow implies bringing out an abject state of timorousness and often demoralization. To bully is to intimidate through blustering, domineering, or threatening behavior. Bludgeon suggests the use of grossly aggressive or combative methods.
Intimidation may or may not involve brute force and verbal abuse. Sometimes it may occur in subtle ways. One person may intimidate another by his social status, by the way he dresses, by the way he walks or talks or in any other way that doesn't necessarily imply that the intimidator is attempting to belittle or take advantage of those around him. The person may be dressing and acting in a way that commands respect and that is appropriate for his station in life.
And then there is another kind of intimidation, where an intimidator is purposefully acting like a bully and treating others in a hurtful manner. The intimidator here is like an energy-vampire, feeding on your fear. In and of himself, he may feel worthless and he derives a sense of power by making other people feel bad, by making other people feel smaller - so that the intimidator may feel as if his life counts for something.
Some people may intimidate and bully others for no other reason except to feed on other person's energy, while others may be after a specific thing - money, sex, attention or anything else. One person may be blackmailing another in a relationship or perhaps during a divorce proceeding on account who gets the custody or how much of visitation rights with a child.
The intimidation may be in a form of an outright threat or harm, or it may have a more subtle, and seemingly more civilized form - like a facial expression, a raised eyebrow, stare, a non-verbal gesture or it may be in a form of a verbally manipulative language, as in "Now you'll see what will happen!", or "I imagine you will cooperate because you do want to have contact with your child, don't you?"
When someone is purposefully attempting to intimidate you, they are seeking to get what they want by frightening you in some way, and Stop Feeling Intimidated CDs are designed to help you to first center your mind and your emotions, so that you can choose appropriate action from a state of inner calm and inner power, instead of senselessly responding to fear tactics of the intimidator.
While different situation may require different kind of action, and sometimes the appropriate action is to ignore the intimidator, sometimes it may be appropriate to say and do nothing, while other times you may skillfully deflect the attack verbally or even physically, the more you are in control of your mind, emotions and energy, the better you will be able to handle the situation.
Stop Feeing Intimidated Sanskrit mantra collection contains mantras that will give a boost to your energy field, calm and strength to your mind and heart, and increase your ability to deflect the intimidation attempt. When you feel at-one with that benevolent power and intelligence that is greater than your or anyone else's physical body, then no one will be able to intimidate you and you'll be able to calmly deal with whatever situation or challenge comes your way.

Stop Feeling Intimidated
Deep Trance Now Hypnosis CDs and mp3 downloads
The recordings on this page are self-improvement recordings intended for mentally healthy people who are able and willing to take responsibility for their lives. People who were treated for mental health problems or are suffering from mental health issues should consult with their health care provider before using these recordings.
» Hypnosis Newsletter and Free Downloads
If you want CDs, click on "add to cart" button.
If you want Instant mp3 Downloads,
click on the blue Instant Download link.

Stop Feeling Intimidated
Hypnosis
1 CD - $24.95
For INSTANT DOWNLOAD click here
Stop Feeling Intimidated
Hypnosis with Embedded Subliminal Track
1 CD - $29.95
Stop Feeling Intimidated
Hypnosis with Embedded Supraliminal Track
1 CD - $34.95
For INSTANT DOWNLOAD click here
Stop Feeling Intimidated
Subliminal with Audible Intro Suggestions
1 CD - $14.95
For INSTANT DOWNLOAD click here
Stop Feeling Intimidated
Daytime Silent Subliminal
1 CD - $14.95
Stop Feeling Intimidated
Nighttime Silent Subliminal Sleep Programming
1 CD - $14.95
For INSTANT DOWNLOAD click here
Stop Feeling Intimidated
Supraliminal with Audible Intro Suggestions
1 CD - $19.95
For INSTANT DOWNLOAD click here
Stop Feeling Intimidated
Daytime Silent Supraliminal
1 CD - $19.95
Stop Feeling Intimidated
Nighttime Silent Supraliminal Sleep Programming
1 CD - $19.95
For INSTANT DOWNLOAD click here
Stop Feeling Intimidated
Empowering Affirmations
1 CD - $17.95
Stop Feeling Intimidated
Empowering Affirmations with Embedded Subliminal Track
1 CD - $22.95
Stop Feeling Intimidated
Empowering Affirmations with Embedded Subliminal and Supraliminal Tracks
1 CD - $27.95
For INSTANT DOWNLOAD click here
Stop Feeling Intimidated
Supraliminal Plus
1 CD - $24.95
For INSTANT DOWNLOAD click here
Stop Feeling Intimidated
Hypnosis + Subliminal
2 CDs - $29.95
For INSTANT DOWNLOAD click here
Stop Feeling Intimidated
Hypnosis + Supraliminal
2 CDs - $34.95
For INSTANT DOWNLOAD click here
Stop Feeling Intimidated
Hypnosis + Supraliminal Plus
2 CDs - $39.95
For INSTANT DOWNLOAD click here
Stop Feeling Intimidated
Hypnosis + Subliminal + Supraliminal Plus
3 CDs - $49.95
For INSTANT DOWNLOAD click here
Stop Feeling Intimidated
Hypnosis + Supraliminal + Supraliminal Plus
3 CDs - $54.95
For INSTANT DOWNLOAD click here
Stop Feeling Intimidated
Hypnosis + Subliminal + Supraliminal + Supraliminal Plus
4 CDs - $64.95
Stop Feeling Intimidated
Hypnosis + Empowering Affirmations + Subliminal + Supraliminal + Supraliminal Plus
5 CDs - $79.95
Stop Feeling Intimidated
Hypnosis + Empowering Affirmations + Subliminal + Supraliminal + Supraliminal Plus + Sanskrit Mantras
6 CDs - $89.95