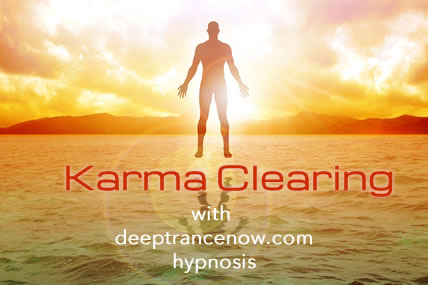 Monica enjoyed the excitement of buying anything her credit cards would allow. As the consequences of living beyond her means eventually caught up with her, she decided to tighten her belt, stop using credit cards and pay off her debt. One year later, in spite of her best efforts, living within her means and paying off as much of her debt as she could, she realized that the debt remained the same, and the only thing she was paying off was the interest.
Though her financial situation appeared hopeless, already taking care of it the only way she knew how, she put it out of her mind. Instead, she kept her spirits up by turning within, centering herself on that which knows only of peace. Inspired from within, she asked to live the life of "spiritual truth".
Within few weeks amazing thing happened. Her debt miraculously disappeared. All the records of her debt vanished from credit card bureaus and the banks that issued her credit cards, as if they never happened. She learned her lesson and got a clean start.
Changing Karma vs. Clearing Karma
The word "karma" stands for the principle of causality, for the law of cause and consequence; in Scripture taught as "as you saw, so you shall reap" (Galatians 6:7), and popularized as "what goes around comes around".
When you think a thought, you set forces in motion that begin to actualize that thought in your experience. You set the cause, the effect of which results in the experience of "karma".
What you do with that thought determines how your karma plays out. Acting on the thought, strengthens it. Changing the thought, changes the karma. Lifting your awareness beyond the thoughts related to the phenomenal world clears and dissolves karma.
Different Kinds of Karma
Some spiritual traditions, like Hinduism, divide karma into different kinds according to when the seeds of karma were planted, how were they planted, and when the fruits of karma will ripen.
Regardless of when you might have created the karma, the moment of power is now. Right now, all of your past thoughts and actions, exist as mental impressions (samskaras) in your subconscious mind. Right now, you have access to all those past impressions that live in your subconscious mind. And right now, you have the power to change them, or to rise above them, as you choose.
If, like a spiritual adept, you look upon yourself as a being made out of consciousness, which uses the physical body as a vehicle of expression in this world, then you know that in order to change your karma, you only need to change your consciousness. Right action will naturally follow.
Karma Clearing in Different Traditions
Throughout history, people in different cultures and spiritual traditions have practiced different ways of karma clearing.
If you go to a church to confess your sins, a priest may recommend that you say so many Hail Mary's or other kinds of prayer.
Holy Scripture urges you to practice forgiveness and repentance. When you truly repent for something you did, you change your mind and heart about it, changing your "vibration" and setting in motion different consequences.
If you were experiencing a health problem or a run of bad luck in your life, after practicing forgiveness and repentance you may experience spontaneous healing of condition and a change of your luck for the better.
In India, a guru may take a bunch of branches, representing your past karma, and burn them, thus burning part of your karma.
Or a Vedic astrologer, noting an unfavorable aspect on your astrology chart, portending an event where something can kill you or you could break a leg, may suggest that you chant a mantra, like Mahamrityunjaya mantra, or Om Namah Shivaya or for that matter any mantra that helps you to raise your consciousness above the phenomenal world.
Having Someone Else Take On Your Karma
or Help You To Clear It
When you get sick, because you indulged in a rich meal and your stomach is ailing, of course you can take some alka-seltzer (sodium bicarbonate) and the karma of your over-indulgence is settled.
If you just missed the bus, someone can give you a ride and you can still make it to work on time.
Up to a certain point, most of us are helping each other in different ways. You may help someone and that person may not return the favor, but when you consider all that you gave to life and all that you got, in the end it all pretty much evens out.
People also do help each other through intercessory prayer. They take on a burden of another, and pray until the burden is relieved. Even if you have never engaged in intercessory prayer, if you feel emotionally close to someone, when that someone is hurting, you may very well experience the symptoms of his pain in your own body. By clearing the condition in your body, through prayer or energy healing, you may discover that the other person got better, as well.
In India, a guru may take on himself a part of the karma of another person. Depending on the guru and his level of consciousness, just like a person engaging in intercessory prayer, he may experience the problem on his own body for a while, and then dissolve it.
Some cultures had "sin eaters", people or shamans who apparently absorbed some of the sins of a dead person, so that the soul of the person could be assured of moving to spiritual realms instead of being earth-bound. In other traditions, people would read prayers to the dearly departed, for that same purpose.
The Essence of Karma Clearing
We are all here to spiritually evolve and ultimately to experience our true spiritual nature which people call by various names - Absolute Reality, God-Realization, Self-Realization, undifferentiated luminous consciousness and to be established in that state of consciousness.
In the process of living our lives we get pointers and all the help we need to engage in right thought-processes and right action. The help comes in any way in which we are willing to receive it - from the outer world and from within us.
We get guidance from within in the form of conscience and in other ways we are open to receive it. We get guidance from the outside through various holy scriptures, and from the feedback we receive from the life itself.
If you pay attention to your thoughts and to what you're experience in your life, you're bound to find that they relate to each other. You can also trace everything that happens in your life to something that you first thought - whether that thought emerged from your consciousness or through something you read in a book or hear in a song or saw in a movie or found on the internet, it doesn't matter; first you have a thought and then if you dwell on it or take action upon it, you also experience the consequences.
Because all the seeds of past karma exist within you right now in the present moment, you have the ability to change them, by changing your consciousness.
Karma Clearing and Healing
Deep Trance Now Hypnosis Programs
» Hypnosis Newsletter and Free Downloads
If you want CDs, click on "add to cart" button.
If you want Instant mp3 Downloads,
click on the blue Instant Download link.