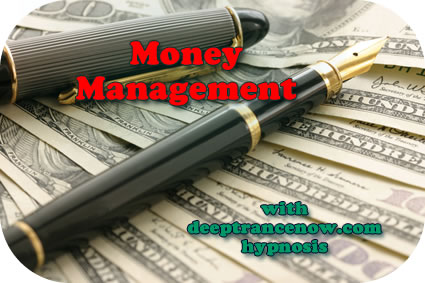 Money Management CDs are designed to help you change your behavior in relation to money - by using NLP techniques. You will find them useful if you have a tendency to spend money impulsively and money goes through your hands like water. They will be even more useful to you if your behavior is causing you to pile up debt and you know that you need to take control of your finances now.
» You may also like other CDs from the Financial Wealth collection
Money Management Deep Trance Now Hypnosis Programs
» Hypnosis Newsletter and Free Downloads
If you want CDs, click on "add to cart" button.
If you want Instant mp3 Downloads,
click on the blue Instant Download link.

Money Management
Hypnosis
1 CD - $24.95
Money Management
Hypnosis with Embedded Subliminal Track
1 CD - $29.95
Money Management
Hypnosis with Embedded Supraliminal Track
1 CD - $34.95
Money Management
Subliminal with Audible Intro Suggestions
1 CD - $14.95
For INSTANT DOWNLOAD click here
Money Management
Daytime Silent Subliminal
1 CD - $14.95
Money Management
Nighttime Silent Subliminal Sleep Programming
1 CD - $14.95
For INSTANT DOWNLOAD click here
Money Management
Supraliminal with Audible Intro Suggestions
1 CD - $19.95
For INSTANT DOWNLOAD click here
Money Management
Daytime Silent Supraliminal
1 CD - $19.95
Money Management
Nighttime Silent Supraliminal Sleep Programming
1 CD - $19.95
For INSTANT DOWNLOAD click here
Money Management
Empowering Affirmations
1 CD - $17.95
Money Management
Empowering Affirmations with Embedded Subliminal Track
1 CD - $22.95
For INSTANT DOWNLOAD click here
Money Management
Empowering Affirmations with Embedded Subliminal and Supraliminal Tracks
1 CD - $27.95
For INSTANT DOWNLOAD click here
Money Management
Supraliminal Plus
1 CD - $24.95
For INSTANT DOWNLOAD click here
Money Management
Sanskrit Mantras
1 CD - $24.95
Money Management
Hypnosis + Subliminal
2 CDs - $29.95
Money Management
Hypnosis + Supraliminal
2 CDs - $34.95
Money Management
Hypnosis + Supraliminal Plus
2 CDs - $39.95
Money Management
Hypnosis + Subliminal + Supraliminal Plus
3 CDs - $49.95
Money Management
Hypnosis + Supraliminal + Supraliminal Plus
3 CDs - $54.95
Money Management
Hypnosis + Subliminal + Supraliminal + Supraliminal Plus
4 CDs - $64.95
Money Management
Hypnosis + Empowering Affirmations + Subliminal + Supraliminal + Supraliminal Plus
5 CDs - $79.95
Money Management
Hypnosis + Empowering Affirmations + Subliminal + Supraliminal + Supraliminal Plus + Sanskrit Mantras
6 CDs - $89.95