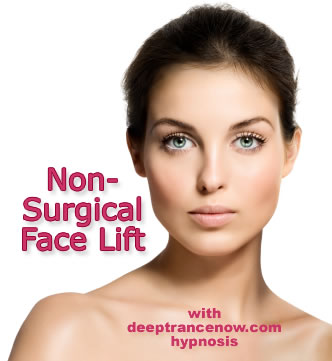 In one research experiment, elderly people were placed in an atmosphere where they were reliving experiences which occurred 20 - 50 years ago, as if that was all happening in the present moment. Within a matter of weeks, these people were becoming 10 - 20 years biologically younger. Our thoughts have powerful effect upon the biochemistry of our bodies.
Non-Surgical Face Lift set of recordings is designed to help you to activate the power of your subconscious mind to boost collagen production,and to restore suppleness and firmness of your skin and diminish wrinkles.

Non-Surgical Face Lift
Deep Trance Now Hypnosis CDs and mp3 downloads
» Click here to learn more about Different Types of Recordings
» Subscribe to Deep Trance Now Hypnosis Newsletter and listen to Free Downloads
» Click here for information about Mail Order, Shipping or ordering MP3 Downloads
If you want CDs, click on "add to cart" button.
If you want Instant Downloads,
click on the blue Instant Download link.

Non Surgical Face Lift
Hypnosis
1 CD - $24.95
For INSTANT DOWNLOAD click here
Non Surgical Face Lift
Hypnosis with Embedded Subliminal Track
1 CD - $29.95
Non Surgical Face Lift
Hypnosis with Embedded Supraliminal Track
1 CD - $34.95
For INSTANT DOWNLOAD click here
Non Surgical Face Lift
Subliminal with Audible Intro Suggestions
1 CD - $14.95
For INSTANT DOWNLOAD click here
Non Surgical Face Lift
Daytime Silent Subliminal
1 CD - $14.95
Non Surgical Face Lift
Nighttime Silent Subliminal Sleep Programming
1 CD - $14.95
For INSTANT DOWNLOAD click here
Non Surgical Face Lift
Supraliminal with Audible Intro Suggestions
1 CD - $19.95
For INSTANT DOWNLOAD click here
Non Surgical Face Lift
Daytime Silent Supraliminal
1 CD - $19.95
For INSTANT DOWNLOAD click here
Non Surgical Face Lift
Nighttime Silent Supraliminal Sleep Programming
1 CD - $19.95
For INSTANT DOWNLOAD click here
Non Surgical Face Lift
Empowering Affirmations
1 CD - $17.95
Non Surgical Face Lift
Empowering Affirmations with Embedded Subliminal Track
1 CD - $22.95
Non Surgical Face Lift
Empowering Affirmations with Embedded Subliminal and Supraliminal Tracks
1 CD - $27.95
For INSTANT DOWNLOAD click here
Non Surgical Face Lift
Supraliminal Plus
1 CD - $24.95
For INSTANT DOWNLOAD click here
Non Surgical Face Lift
Sanskrit Mantras for Beauty and Charm
1 CD - $24.95
Non Surgical Face Lift
Hypnosis + Subliminal
2 CDs - $29.95
For INSTANT DOWNLOAD click here
Non Surgical Face Lift
Hypnosis + Supraliminal
2 CDs - $34.95
For INSTANT DOWNLOAD click here
Non Surgical Face Lift
Hypnosis + Supraliminal Plus
2 CDs - $39.95
For INSTANT DOWNLOAD click here
Non Surgical Face Lift
Hypnosis + Subliminal + Supraliminal Plus
3 CDs - $49.95
For INSTANT DOWNLOAD click here
Non Surgical Face Lift
Hypnosis + Supraliminal + Supraliminal Plus
3 CDs - $54.95
For INSTANT DOWNLOAD click here
Non Surgical Face Lift
Hypnosis + Subliminal + Supraliminal + Supraliminal Plus
4 CDs - $64.95
Non Surgical Face Lift
Hypnosis + Empowering Affirmations + Subliminal + Supraliminal + Supraliminal Plus
5 CDs - $79.95
Non Surgical Face Lift
Hypnosis + Empowering Affirmations + Subliminal + Supraliminal + Supraliminal Plus + Sanskrit Mantras
6 CDs - $89.95