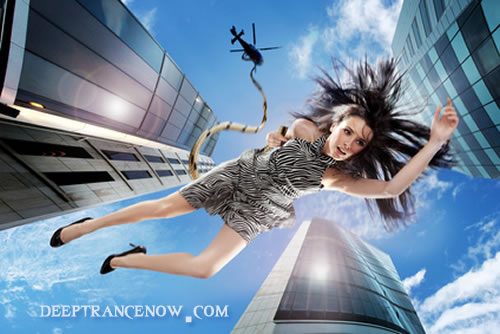 Fear of heights, or acrophobia, is one of the most common fears. Some people may experience anxiety even from climbing few steps of a ladder, while others may feel dizzy while looking out the window of a high-rise building or walking over the bridge or being in an elevator with glass windows.
Some people feel comfortable if they can see and/or feel some kind of firm support, like rails of a balcony or even sitting in an airplane - as long as they interpret it as safe. On the other hand walking over a rickety bridge, even it has some kind of support, or over the wooden plank with no support, where the possibility exist that they may fall, brings a sense of anxiety or panic.
The height itself also makes a difference. Some people are comfortable climbing a ladder up to a certain height, but when they pass their comfort level, they feel queasy. Some may feel comfortable in an elevator with glass windows no matter what is the height because they feel that glass can protect them and they can reasonably expect that they won't fall out of it, while others feel dizzy the moment they are few feet off the the main floor.
The symptoms of acrophobia may be rapid breathing, shortness of breath, heart palpitations, nausea, dizziness, sweating.
Hypnosis and NLP can help to re-wire your neurology, to replace images and feelings that are disconcerting, with those that make you feel calm, relaxed, and safe. Hypnosis, subliminal, supraliminal and supraliminal plus recordings can also help you to program your subconscious mind to alert you if you are in any genuine danger, so that you can relax and enjoy your life at other times. You can also program your mind to direct your actions in a way that will ensure that you are safe wherever you may go.
Brainwave entrainment can help you to condition your mind and your neurology to relax and be calm when you need to.
Sanskrit mantras can help you to feel safe and protected wherever you go.
Overcome Fear of Heights
Deep Trance Now Hypnosis CDs and mp3 downloads
The recordings on this page are self-improvement recordings intended for mentally healthy people who are able and willing to take responsibility for their lives. People who were treated for mental health problems or are suffering from mental health issues should consult with their health care provider before using these recordings.
» Hypnosis Newsletter and Free Downloads
If you want CDs, click on "add to cart" button.
If you want Instant mp3 Downloads,
click on the blue Instant Download link.

Overcome Fear of Heights
Hypnosis
1 CD - $24.95
For INSTANT DOWNLOAD click here
Overcome Fear of Heights
Hypnosis with Embedded Subliminal Track
1 CD - $29.95
Overcome Fear of Heights
Hypnosis with Embedded Supraliminal Track
1 CD - $34.95
Overcome
For INSTANT DOWNLOAD click hereFear of Heights
Subliminal with Audible Intro Suggestions
1 CD - $14.95
Overcome Fear of Heights
Daytime Silent Subliminal
1 CD - $14.95
For INSTANT DOWNLOAD click here
Overcome Fear of Heights
Nighttime Silent Subliminal Sleep Programming
1 CD - $14.95
For INSTANT DOWNLOAD click here
Overcome Fear of Heights
Supraliminal with Audible Intro Suggestions
1 CD - $19.95
For INSTANT DOWNLOAD click here
Overcome Fear of Heights
Daytime Silent Supraliminal
1 CD - $19.95
Overcome Fear of Heights
Nighttime Silent Supraliminal Sleep Programming
1 CD - $19.95
For INSTANT DOWNLOAD click here
Overcome Fear of Heights
Empowering Affirmations
1 CD - $17.95
Overcome Fear of Heights
Empowering Affirmations with Embedded Subliminal Track
1 CD - $22.95
Overcome Fear of Heights
Empowering Affirmations with Embedded Subliminal and Supraliminal Tracks
1 CD - $27.95
Overcome Fear of Heights
Supraliminal Plus
1 CD - $24.95
For INSTANT DOWNLOAD click here
Brainwave Entrainment to calm and relax your nerves
1 CD - $24.95
Sanskrit Mantras for Safe Travel
1 CD - $24.95
Overcome Fear of Heights
Hypnosis + Subliminal
2 CDs - $29.95
For INSTANT DOWNLOAD click here
Overcome Fear of Heights
Hypnosis + Supraliminal
2 CDs - $34.95
For INSTANT DOWNLOAD click here
Overcome Fear of Heights
Hypnosis + Supraliminal Plus
2 CDs - $39.95
For INSTANT DOWNLOAD click here
Overcome Fear of Heights
Hypnosis + Subliminal + Supraliminal Plus
3 CDs - $49.95
For INSTANT DOWNLOAD click here
Overcome Fear of Heights
Hypnosis + Supraliminal + Supraliminal Plus
3 CDs - $54.95
For INSTANT DOWNLOAD click here
Overcome Fear of Heights
Hypnosis + Subliminal + Supraliminal + Supraliminal Plus
4 CDs - $64.95
Overcome Fear of Heights
Hypnosis + Empowering Affirmations + Subliminal + Supraliminal + Supraliminal Plus
5 CDs - $79.95