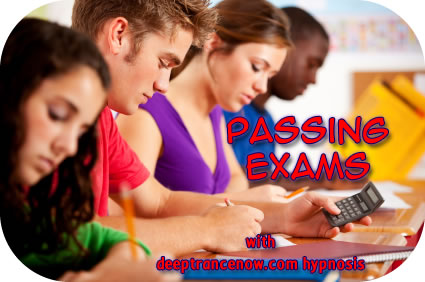 Most students experience high levels of stress before and during exams, but you don't have to. You can use the power of your subconscious mind to help you to absorb the information you need and to recall it. Positive state of mind and envisioning yourself successfully passing the exam will help you to do much better than if you're worried how well will you do. Preparing adequately for the exam will also help you more than if you cram a day or two before the exam. Proper nutrition and physical exercise, and getting enough rest will help you to be in the best condition you can be for studying and for successfully passing the exams.
Pass Exams Successfully CDs and mp3s are designed to help you prepare for the exam and to maintain your cool during the exam, as well as to be able to access all the information and skills you need in order to pass the exam successfully. Pass Exams CDs will help you to be relaxed, focused, and confident during the exam.

Pass Exams Successfully
Deep Trance Now Hypnosis CDs and mp3 downloads
» Hypnosis Newsletter and Free Downloads
If you want CDs, click on "add to cart" button.
If you want Instant mp3 Downloads,
click on the blue Instant Download link.

Pass Exams Successfully
Hypnosis
1 CD - $24.95
For INSTANT DOWNLOAD click here
Pass Exams Successfully
Hypnosis with Embedded Subliminal Track
1 CD - $29.95
For INSTANT DOWNLOAD click here
Pass Exams Successfully
Hypnosis with Embedded Supraliminal Track
1 CD - $34.95
For INSTANT DOWNLOAD click here
Pass Exams Successfully
Subliminal with Audible Intro Suggestions
1 CD - $14.95
For INSTANT DOWNLOAD click here
Pass Exams Successfully
Daytime Silent Subliminal
1 CD - $14.95
Pass Exams Successfully
Nighttime Silent Subliminal Sleep Programming
1 CD - $14.95
For INSTANT DOWNLOAD click here
Pass Exams Successfully
Supraliminal with Audible Intro Suggestions
1 CD - $19.95
For INSTANT DOWNLOAD click here
Pass Exams Successfully
Daytime Silent Supraliminal
1 CD - $19.95
Pass Exams Successfully
Nighttime Silent Supraliminal Sleep Programming
1 CD - $19.95
For INSTANT DOWNLOAD click here
Pass Exams Successfully
Empowering Affirmations
1 CD - $17.95
Pass Exams Successfully
Empowering Affirmations with Embedded Subliminal Track
1 CD - $22.95
Pass Exams Successfully
Empowering Affirmations with Embedded Subliminal and Supraliminal Tracks
1 CD - $27.95
For INSTANT DOWNLOAD click here
Pass Exams Successfully
Supraliminal Plus
1 CD - $24.95
For INSTANT DOWNLOAD click here
Pass Exams Successfully
Brainwave Entrainment
1 CD - $24.95
Pass Exams Successfully
Sanskrit Mantras
1 CD - $24.95
Pass Exams Successfully
Hypnosis + Subliminal
2 CDs - $29.95
For INSTANT DOWNLOAD click here
Pass Exams Successfully
Hypnosis + Supraliminal
2 CDs - $34.95
For INSTANT DOWNLOAD click here
Pass Exams Successfully
Hypnosis + Supraliminal Plus
2 CDs - $39.95
For INSTANT DOWNLOAD click here
Pass Exams Successfully
Hypnosis + Subliminal + Supraliminal Plus
3 CDs - $49.95
For INSTANT DOWNLOAD click here
Pass Exams Successfully
Hypnosis + Supraliminal + Supraliminal Plus
3 CDs - $54.95
For INSTANT DOWNLOAD click here
Pass Exams Successfully
Hypnosis + Subliminal + Supraliminal + Supraliminal Plus
4 CDs - $64.95
Pass Exams Successfully
Hypnosis + Empowering Affirmations + Subliminal + Supraliminal + Supraliminal Plus
5 CDs - $79.95
Pass Exams Successfully
Hypnosis + Empowering Affirmations + Subliminal + Supraliminal + Supraliminal Plus + Sanskrit Mantras
6 CDs - $89.95