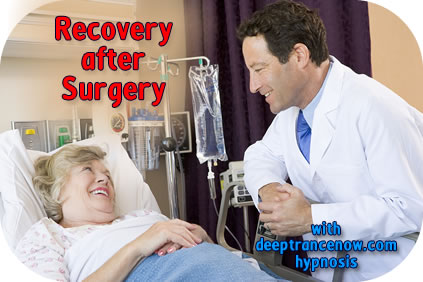 Recovery from surgery may greatly depend on the kind of surgery you'll have. After the anesthesia wears off, you are likely to experience various degrees of pain and get pain killers.
Surgery can be extremely stressful on the body. There is the obvious physical and emotional stress, pain and anxiety, compounded by the stress caused by the actual health problem or trauma.
Deep relaxation and healing imagery after surgery can reduce any pain and discomfort that you may be experiencing during recovery. It can boost your immune system and speed up your recovery.
Accelerated Healing After Surgery recordings are designed to help you to reduce pain and to recover faster after surgery.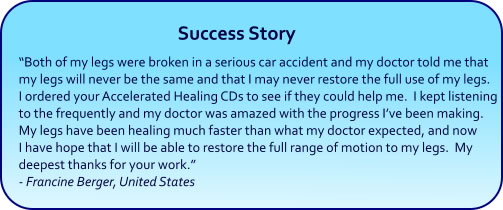 Healing Recovery After Surgery
Deep Trance Now Hypnosis CDs & mp3 Downloads
» Hypnosis Newsletter and Free Downloads
If you want CDs, click on "add to cart" button.
If you want Instant mp3 Downloads,
click on the blue Instant Download link.

Accelerated Healing After Surgery
Hypnosis
1 CD - $24.95
For INSTANT DOWNLOAD click here
Accelerated Healing After Surgery
Hypnosis with Embedded Subliminal Track
1 CD - $29.95
Accelerated Healing After Surgery
Hypnosis with Embedded Supraliminal Track
1 CD - $34.95
Accelerated Healing After Surgery
Subliminal with Audible Intro Suggestions
1 CD - $14.95
Accelerated Healing After Surgery
Daytime Silent Subliminal
1 CD - $14.95
Accelerated Healing After Surgery
Nighttime Silent Subliminal Sleep Programming
1 CD - $14.95
For INSTANT DOWNLOAD click here
Accelerated Healing After Surgery
Supraliminal with Audible Intro Suggestions
1 CD - $19.95
Accelerated Healing After Surgery
Daytime Silent Supraliminal
1 CD - $19.95
Accelerated Healing After Surgery
Nighttime Silent Supraliminal Sleep Programming
1 CD - $19.95
For INSTANT DOWNLOAD click here
Accelerated Healing After Surgery
Empowering Affirmations
1 CD - $17.95
Accelerated Healing After Surgery
Empowering Affirmations with Embedded Subliminal Track
1 CD - $22.95
Accelerated Healing After Surgery
Empowering Affirmations with Embedded Subliminal and Supraliminal Tracks
1 CD - $27.95
For INSTANT DOWNLOAD click here
Accelerated Healing After Surgery
Supraliminal Plus
1 CD - $24.95
For INSTANT DOWNLOAD click here
Accelerated Healing After Surgery
Brainwave Entrainment
1 CD - $24.95
For INSTANT DOWNLOAD click here
Sanskrit Mantras for Healing
1 CD - $24.95
For INSTANT DOWNLOAD click here
Accelerated Healing After Surgery
Hypnosis + Subliminal
2 CDs - $29.95
Accelerated Healing After Surgery
Hypnosis + Supraliminal
2 CDs - $34.95
Accelerated Healing After Surgery
Hypnosis + Supraliminal Plus
2 CDs - $39.95
Accelerated Healing After Surgery
Hypnosis + Subliminal + Supraliminal Plus
3 CDs - $49.95
Accelerated Healing After Surgery
Hypnosis + Supraliminal + Supraliminal Plus
3 CDs - $54.95
Accelerated Healing After Surgery
Hypnosis + Subliminal + Supraliminal + Supraliminal Plus
4 CDs - $64.95
Accelerated Healing After Surgery
Hypnosis + Empowering Affirmations + Subliminal + Supraliminal + Supraliminal Plus
5 CDs - $79.95
Accelerated Healing After Surgery
Hypnosis + Empowering Affirmations + Subliminal + Supraliminal + Supraliminal Plus + Brainwave Entrainment
6 CDs - $89.95
Accelerated Healing After Surgery
Hypnosis + Empowering Affirmations + Subliminal + Supraliminal + Supraliminal Plus + Sanskrit Mantras
6 CDs - $89.95
Accelerated Healing After Surgery
Hypnosis + Empowering Affirmations + Subliminal + Supraliminal + Supraliminal Plus + Sanskrit Mantras + Brainwave Entrainment
7 CDs - $108.00