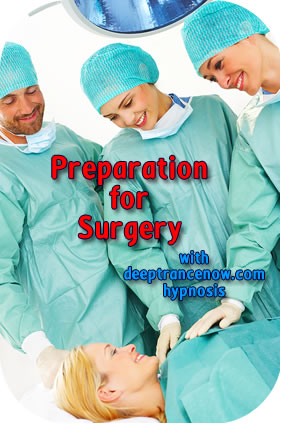 Preparation for surgery involves physical, mental and emotional aspects. Physically, some surgeries may require you to alter your diet, take special drinks and perhaps laxatives. Mentally and emotionally you may be experiencing anxiety and wondering how will it turn out as you have to face the unknown.
As your mind and body are part of the same system, you can enhance your overall experience and the outcome of surgery by actively programming your mind with relaxing and calming ideas, successful operation and healing imagery.
The less stress anxiety you experience and the more relaxed and calm you are, the less pain and discomfort will you experience, the better can your immune system respond, and the faster can your body return to its optimal health.
People who mentally prepare for the surgery usually take less anesthesia during the surgery and less pain medications after the surgery.
Preparation for Surgery recordings are designed to help you to ease any anxiety associated with a pending surgery. They also contain suggestions to help you recover rapidly after surgery.
Preparation for Surgery Deep Trance Now Hypnosis Programs
» Hypnosis Newsletter and Free Downloads
If you want CDs, click on "add to cart" button.
If you want Instant mp3 Downloads,
click on the blue Instant Download link.
Preparation for Surgery
Hypnosis
1 CD - $24.95
For INSTANT DOWNLOAD click here
Preparation for Surgery
Hypnosis with Embedded Subliminal Track
1 CD - $29.95
Preparation for Surgery
Hypnosis with Embedded Supraliminal Track
1 CD - $34.95
Preparation for Surgery
Subliminal with Audible Intro Suggestions
1 CD - $14.95
Preparation for Surgery
Daytime Silent Subliminal
1 CD - $14.95
Preparation for Surgery
Nighttime Silent Subliminal Sleep Programming
1 CD - $14.95
For INSTANT DOWNLOAD click here
Preparation for Surgery
Supraliminal with Audible Intro Suggestions
1 CD - $19.95
Preparation for Surgery
Daytime Silent Supraliminal
1 CD - $19.95
Preparation for Surgery
Nighttime Silent Supraliminal Sleep Programming
1 CD - $19.95
For INSTANT DOWNLOAD click here
Preparation for Surgery
Empowering Affirmations
1 CD - $17.95
Preparation for Surgery
Empowering Affirmations with Embedded Subliminal Track
1 CD - $22.95
Preparation for Surgery
Empowering Affirmations with Embedded Subliminal and Supraliminal Tracks
1 CD - $27.95
Preparation for Surgery
Supraliminal Plus
1 CD - $24.95
For INSTANT DOWNLOAD click here
Preparation for Surgery
Brainwave Entrainment
1 CD - $24.95
Sanskrit Mantras for Relaxation, Anxiety Reduction and Healing
1 CD - $24.95
Preparation for Surgery
Hypnosis + Subliminal
2 CDs - $29.95
Preparation for Surgery
Hypnosis + Supraliminal
2 CDs - $34.95
Preparation for Surgery
Hypnosis + Supraliminal Plus
2 CDs - $39.95
Preparation for Surgery
Hypnosis + Subliminal + Supraliminal Plus
3 CDs - $49.95
Preparation for Surgery
Hypnosis + Supraliminal + Supraliminal Plus
3 CDs - $54.95
Preparation for Surgery
Hypnosis + Subliminal + Supraliminal + Supraliminal Plus
4 CDs - $64.95
Preparation for Surgery
Hypnosis + Empowering Affirmations + Subliminal + Supraliminal + Supraliminal Plus
5 CDs - $79.95
Preparation for Surgery
Hypnosis + Empowering Affirmations + Subliminal + Supraliminal + Supraliminal Plus + Brainwave Entrainment
6 CDs - $89.95
Preparation for Surgery
Hypnosis + Empowering Affirmations + Subliminal + Supraliminal + Supraliminal Plus + Sanskrit Mantras
6 CDs - $89.95
Preparation for Surgery
Hypnosis + Empowering Affirmations + Subliminal + Supraliminal + Supraliminal Plus + Sanskrit Mantras + Brainwave Entrainment
7 CDs - $108.00