Procrastination is the avoidance of doing a task which needs to be accomplished. It is a problem that strikes millions of people in all walks of life. It is natural to procrastinate occasionally. However, excessive procrastination can have painful consequences and can lead to feelings of guilt, inadequacy, depression, self-doubt, worry and anxiety.
The habit of putting things off can be major problem in both your career and your personal life. Side effects of procrastination may include missed opportunities, frenzied work hours, stress, overwhelm and resentment.
Procrastination may at times serve as a coping mechanism to keep your stress levels under control. Perhaps you have too much on your plate - you have so many things to do and there is only so much time. Maybe you lack discipline or time management skills and getting organized can help you to do what you need to do.
Or you feel overwhelmed with the task you need to take care of because it is too challenging for you and you don't have all the skills you need to complete it.
Or maybe it is too boring and you are not inspired and motivated to do it. Perhaps each time you think of that task, you can think of things that are much more fun to do.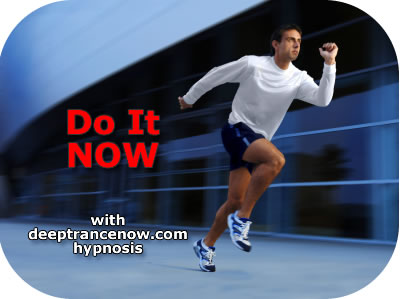 But can you imagine how good you would feel right now if you have already done all those things you were putting off for so long?
Whatever it is, Do It Now - Stop Procrastination CDs will help you to get it done now and feel a sense of pride and accomplishment as well as a greater sense of peace and freedom because you won't have to keep thinking about it all the time.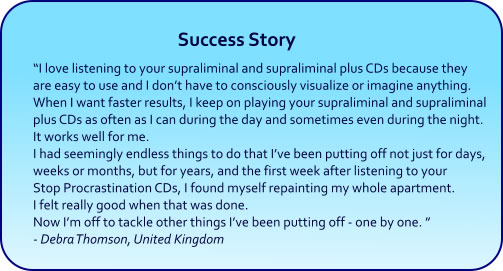 Do it Now - Stop Procrastination
Deep Trance Now Hypnosis Programs
» Click here to learn more about Different Types of Recordings
» Subscribe to Deep Trance Now Hypnosis Newsletter and listen to Free Downloads
» Click here for information about Mail Order, Shipping or ordering MP3 Downloads
If you want CDs, click on "add to cart" button.
If you want Instant mp3 Downloads,
click on the blue Instant Download link.