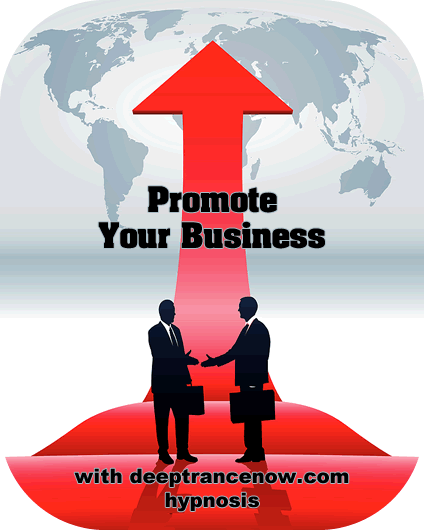 You already know it - no matter how good is your business, how amazingly fantastic your products or services, nothing is likely to happen unless you promote it.
Promote Your Business CDs and mp3s will help you to get into the right mind-set and program your mind with ideas, tips and tricks for driving traffic to your business.
Promote Your Business
Deep Trance Now Hypnosis CDs and mp3 downloads
» Hypnosis Newsletter and Free Downloads
If you want CDs, click on "add to cart" button.
If you want Instant mp3 Downloads,
click on the blue Instant Download link.

Promote Your Business
Hypnosis
1 CD - $24.95
Promote Your Business
Hypnosis with Embedded Subliminal Track
1 CD - $29.95
Promote Your Business
Hypnosis with Embedded Supraliminal Track
1 CD - $34.95
Promote Your Business
Subliminal with Audible Intro Suggestions
1 CD - $14.95
Promote Your Business
Daytime Silent Subliminal
1 CD - $14.95
Promote Your Business
Nighttime Silent Subliminal Sleep Programming
1 CD - $14.95
Promote Your Business
Supraliminal with Audible Intro Suggestions
1 CD - $19.95
Promote Your Business
Daytime Silent Supraliminal
1 CD - $19.95
Promote Your Business
Nighttime Silent Supraliminal Sleep Programming
1 CD - $19.95
Promote Your Business
Empowering Affirmations
1 CD - $17.95
Promote Your Business
Empowering Affirmations with Embedded Subliminal Track
1 CD - $22.95
Promote Your Business
Empowering Affirmations with Embedded Subliminal and Supraliminal Tracks
1 CD - $27.95
Promote Your Business
Supraliminal Plus
1 CD - $24.95
Promote Your Business
Brainwave Entrainment
1 CD - $24.95
Promote Your Business
Sanskrit Mantras
1 CD - $24.95
Promote Your Business
Hypnosis + Subliminal
2 CDs - $29.95
Promote Your Business
Hypnosis + Supraliminal
2 CDs - $34.95
Promote Your Business
Hypnosis + Supraliminal Plus
2 CDs - $39.95
Promote Your Business
Hypnosis + Subliminal + Supraliminal Plus
3 CDs - $49.95
Promote Your Business
Hypnosis + Supraliminal + Supraliminal Plus
3 CDs - $54.95
Promote Your Business
Hypnosis + Subliminal + Supraliminal + Supraliminal Plus
4 CDs - $64.95
Promote Your Business
Hypnosis + Empowering Affirmations + Subliminal + Supraliminal + Supraliminal Plus
5 CDs - $79.95