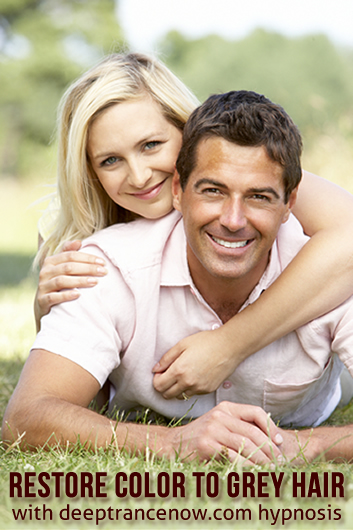 In some people hair begins to lose pigment gradually, while in others it turns white virtually overnight, often due to stress. Legend has it that Marie Antoinette's hair turned white the night before she was guillotined. Presumably the stress of impending decapitation caused her locks to lose color within hours.
While the first strands of silvery hair pop up between the age of 30 - 40, in some people grey hair may appear even in teenage years, and in others after they are in their 50's.
Stress may come in different forms and when it comes to grey hair, the contributing factors to loss of melanin which gives color to hair may be depletion of nutrients, as well as loss of energy.
Caffeine is one of the substances that tend to deplete nutrients necessary for production of melanin, and reducing your caffeine intake or supplementing your nutrition with vitamins and minerals can help to restore the production of melanin.
In highly-sexed people, too much sex may contribute to depletion of energy and greying of hair. To prevent that kind of depletion of energy, some people engage in Taoist and Tantric sexual practices for conservation of sexual energy.
Restore color to grey hair recordings contain suggestions designed to engage your subconscious to produce the melanin necessary to restore the color of your hair, as well as suggestions for relaxation, stress reduction, generation and conservation of energy.

Restore Color To Grey Hair
Deep Trance Now Hypnosis CDs and mp3 downloads
» Click here to learn more about Different Types of Recordings
» Subscribe to Deep Trance Now Hypnosis Newsletter and listen to Free Downloads
» Click here for information about Mail Order, Shipping or ordering MP3 Downloads
If you want CDs, click on "add to cart" button.
If you want Instant mp3 Downloads,
click on the blue Instant Download link.

Restore Color to Grey Hair
Hypnosis
1 CD - $24.95
For INSTANT DOWNLOAD click here
Restore Color to Grey Hair
Hypnosis with Embedded Subliminal Track
1 CD - $29.95
Restore Color to Grey Hair
Hypnosis with Embedded Supraliminal Track
1 CD - $34.95
For INSTANT DOWNLOAD click here
Restore Color to Grey Hair
Subliminal with Audible Intro Suggestions
1 CD - $14.95
For INSTANT DOWNLOAD click here
Restore Color to Grey Hair
Daytime Silent Subliminal
1 CD - $14.95
Restore Color to Grey Hair
Nighttime Silent Subliminal Sleep Programming
1 CD - $14.95
For INSTANT DOWNLOAD click here
Restore Color to Grey Hair
Supraliminal with Audible Intro Suggestions
1 CD - $19.95
For INSTANT DOWNLOAD click here
Restore Color to Grey Hair
Daytime Silent Supraliminal
1 CD - $19.95
Restore Color to Grey Hair
Nighttime Silent Supraliminal Sleep Programming
1 CD - $19.95
For INSTANT DOWNLOAD click here
Restore Color to Grey Hair
Empowering Affirmations
1 CD - $17.95
Restore Color to Grey Hair
Empowering Affirmations with Embedded Subliminal Track
1 CD - $22.95
Restore Color to Grey Hair
Empowering Affirmations with Embedded Subliminal and Supraliminal Tracks
1 CD - $27.95
For INSTANT DOWNLOAD click here
Restore Color to Grey Hair
Supraliminal Plus
1 CD - $24.95
For INSTANT DOWNLOAD click here
Restore Color to Grey Hair
Sanskrit Mantras for Beauty and Charm
1 CD - $24.95
Restore Color to Grey Hair
Hypnosis + Subliminal
2 CDs - $29.95
For INSTANT DOWNLOAD click here
Restore Color to Grey Hair
Hypnosis + Supraliminal
2 CDs - $34.95
For INSTANT DOWNLOAD click here
Restore Color to Grey Hair
Hypnosis + Supraliminal Plus
2 CDs - $39.95
For INSTANT DOWNLOAD click here
Restore Color to Grey Hair
Hypnosis + Subliminal + Supraliminal Plus
3 CDs - $49.95
For INSTANT DOWNLOAD click here
Restore Color to Grey Hair
Hypnosis + Supraliminal + Supraliminal Plus
3 CDs - $54.95
For INSTANT DOWNLOAD click here
Restore Color to Grey Hair
Hypnosis + Subliminal + Supraliminal + Supraliminal Plus
4 CDs - $64.95
Restore Color to Grey Hair
Hypnosis + Empowering Affirmations + Subliminal + Supraliminal + Supraliminal Plus
5 CDs - $79.95
Restore Color to Grey Hair
Hypnosis + Empowering Affirmations + Subliminal + Supraliminal + Supraliminal Plus + Sanskrit Mantras
6 CDs - $89.95