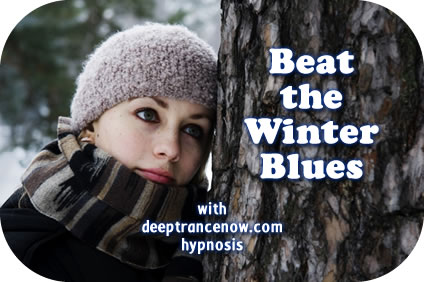 Seasonal affective disorder (SAD), also called "winter depression" - is considered a subtype of depression or bipolar disorder. While not officially in the category of mental illness listed by the American Psychiatric Associations, it is estimated to affect 10 million Americans - mostly women. Another 25 million Americans may have a mild form of SAD, sometimes called the "winter blues" or "winter blahs". The risk of winter depression increases the further from the equator a person lives.
According to the Mayo Clinic, most people who have seasonal affective disorder have symptoms that start in the fall and continue into the winter months. Less often, people suffer from seasonal affective disorder that causes depression in the spring and into the summer months. People who work at night or who work long hours in buildings with few windows can experience SAD year-round. Other people may experience a bout of SAD during extended periods of overcast weather.
Seasonal affective disorder causes depression, lethargy, irritability and a desire to avoid social situations. It can also create an urge to overeat, particularly carbohydrates and junk food.
Seasonal affective disorder is also linked with a chemical imbalance that results from the decrease of light in daylight hours. Melatonin, a brain chemical that plays a role in determining mood, is produced in greater quantities when it is dark outside. This means that more melatonin is produced during the fall and winter. An increase in this hormone can cause symptoms of sleepiness, lethargy and depression, which makes it more difficult for the body to carry out daily tasks that require lots of energy and activity.
While these feelings of mild malaise come and go easily for some, each winter signifies a new cycle of depression for others.
Freedom from Seasonal Affective Disorder CDs ares designed to bring sunshine into your life, brighten up your mood, and ease the effects of Seasonal Affective Disorder.
Freedom From Seasonal Affective Disorder
Deep Trance Now Hypnosis CDs and mp3 downloads
» Hypnosis Newsletter and Free Downloads
If you want CDs, click on "add to cart" button.
If you want Instant mp3 Downloads,
click on the blue Instant Download link.

Freedom From Seasonal Affective Disorder
Hypnosis
1 CD - $24.95
For INSTANT DOWNLOAD click here
Freedom From Seasonal Affective Disorder
Hypnosis with Embedded Subliminal Track
1 CD - $29.95
Freedom From Seasonal Affective Disorder
Hypnosis with Embedded Supraliminal Track
1 CD - $34.95
Freedom From Seasonal Affective Disorder
Subliminal with Audible Intro Suggestions
1 CD - $14.95
Freedom From Seasonal Affective Disorder
Daytime Silent Subliminal
1 CD - $14.95
Freedom From Seasonal Affective Disorder
Nighttime Silent Subliminal Sleep Programming
1 CD - $14.95
Freedom From Seasonal Affective Disorder
Supraliminal with Audible Intro Suggestions
1 CD - $19.95
Freedom From Seasonal Affective Disorder
Daytime Silent Supraliminal
1 CD - $19.95
Freedom From Seasonal Affective Disorder
Nighttime Silent Supraliminal Sleep Programming
1 CD - $19.95
Freedom From Seasonal Affective Disorder
Empowering Affirmations
1 CD - $17.95
Freedom From Seasonal Affective Disorder
Empowering Affirmations with Embedded Subliminal Track
1 CD - $22.95
Freedom From Seasonal Affective Disorder
Empowering Affirmations with Embedded Subliminal and Supraliminal Tracks
1 CD - $27.95
Freedom From Seasonal Affective Disorder
Supraliminal Plus
1 CD - $24.95
For INSTANT DOWNLOAD click here
Sanskrit Mantras for Inner Light and Sunshine
1 CD - $24.95
Freedom From Seasonal Affective Disorder
Hypnosis + Subliminal
2 CDs - $29.95
Freedom From Seasonal Affective Disorder
Hypnosis + Supraliminal
2 CDs - $34.95
Freedom From Seasonal Affective Disorder
Hypnosis + Supraliminal Plus
2 CDs - $39.95
Freedom From Seasonal Affective Disorder
Hypnosis + Subliminal + Supraliminal Plus
3 CDs - $49.95
Freedom From Seasonal Affective Disorder
Hypnosis + Supraliminal + Supraliminal Plus
3 CDs - $54.95
Freedom From Seasonal Affective Disorder
Hypnosis + Subliminal + Supraliminal + Supraliminal Plus
4 CDs - $64.95
Freedom From Seasonal Affective Disorder
Hypnosis + Empowering Affirmations + Subliminal + Supraliminal + Supraliminal Plus
5 CDs - $79.95
Freedom From Seasonal Affective Disorder
Hypnosis + Empowering Affirmations + Subliminal + Supraliminal + Supraliminal Plus + Sanskrit Mantras
6 CDs - $89.95