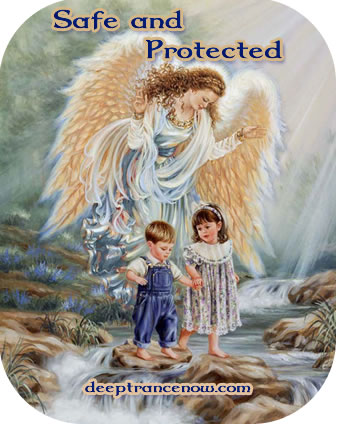 Feeling Safe and Protected program will help you to connect with, or rather to become aware of the Infinite Loving All-Powerful Presence watching over you and guiding your every step so that if there is any danger or calamity you are either directed to a safe place or protected where you stand.
In my own life, particularly in my younger years when I was very adventurous and my curiosity lead me into some situations where even my life was in danger, whenever I remembered to call upon this Infinite Loving All-Powerful Presence, I was miraculously rescued and guided out of danger.
Most people do not really live their lives connected with this Infinite Loving Presence, yet even among them, I know of those who were in situations where they literally had to walk between the bullets shooting all around them, and they came out without a scratch.
I also know of those who lived in areas considered to be safe, yet who were so much fearing disasters happening to them that they attracted exactly that what they have so often contemplated and feared into their experience.
Feeling Safe and Protected program is not designed to turn you into a dare-devil. It is designed to help you enjoy your life, to live it comfortably without anxiety and without worrying about events that may seem to be out of your control.
Safe and Protected
Deep Trance Now Hypnosis CDs and mp3 downloads
The recordings on this page are self-improvement recordings intended for mentally healthy people who are able and willing to take responsibility for their lives. People who were treated for mental health problems or are suffering from mental health issues should consult with their health care provider before using these recordings.
» Hypnosis Newsletter and Free Downloads
If you want CDs, click on "add to cart" button.
If you want Instant mp3 Downloads,
click on the blue Instant Download link.

Safe and Protected
Hypnosis
1 CD - $24.95
For INSTANT DOWNLOAD click here
Safe and Protected
Hypnosis with Embedded Subliminal Track
1 CD - $29.95
Safe and Protected
Hypnosis with Embedded Supraliminal Track
1 CD - $34.95
Safe and Protected
Subliminal with Audible Intro Suggestions
1 CD - $14.95
Safe and Protected
Daytime Silent Subliminal
1 CD - $14.95
For INSTANT DOWNLOAD click here
Safe and Protected
Nighttime Silent Subliminal Sleep Programming
1 CD - $14.95
For INSTANT DOWNLOAD click here
Safe and Protected
Supraliminal with Audible Intro Suggestions
1 CD - $19.95
Safe and Protected
Daytime Silent Supraliminal
1 CD - $19.95
For INSTANT DOWNLOAD click here
Safe and Protected
Nighttime Silent Supraliminal Sleep Programming
1 CD - $19.95
For INSTANT DOWNLOAD click here
Safe and Protected
Empowering Affirmations
1 CD - $17.95
Safe and Protected
Empowering Affirmations with Embedded Subliminal Track
1 CD - $22.95
Safe and Protected
Empowering Affirmations with Embedded Subliminal and Supraliminal Tracks
1 CD - $27.95
For INSTANT DOWNLOAD click here
Safe and Protected
Supraliminal Plus
1 CD - $24.95
For INSTANT DOWNLOAD click here
Safe and Protected
Sanskrit Mantras
1 CD - $24.95
Safe and Protected
Hypnosis + Subliminal
2 CDs - $29.95
Safe and Protected
Hypnosis + Supraliminal
2 CDs - $34.95
Safe and Protected
Hypnosis + Supraliminal Plus
2 CDs - $39.95
Safe and Protected
Hypnosis + Subliminal + Supraliminal Plus
3 CDs - $49.95
Safe and Protected
Hypnosis + Supraliminal + Supraliminal Plus
3 CDs - $54.95
Safe and Protected
Hypnosis + Subliminal + Supraliminal + Supraliminal Plus
4 CDs - $64.95
Safe and Protected
Hypnosis + Empowering Affirmations + Subliminal + Supraliminal + Supraliminal Plus
5 CDs - $79.95
Safe and Protected
Hypnosis + Empowering Affirmations + Subliminal + Supraliminal + Supraliminal Plus + Sanskrit Mantras
6 CDs - $89.95