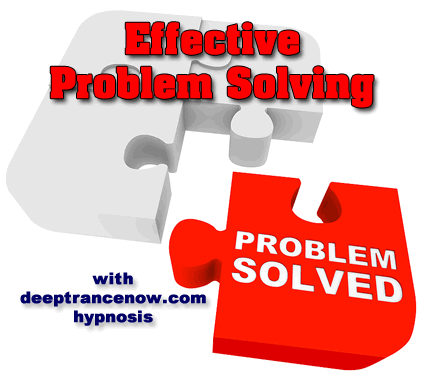 Another CD and mp3 set on this website - Creative Idea Generator can help you to brainstorm and generate creative ideas which may help you to solve varieties of problems.
Effective Problem Solving CDs and mp3s guide through the systematic and analytical process of effectively finding solutions to the problems you need to resolve.
Creative Idea Generator uses the right-brain approach to problem solving, while Effective Problem Solving uses the left-brain approach, and if you use both, you'll have an optimal whole brain approach.
With your right-brain, you can access all kinds of wonderfully creative solutions, with your left-brain you'll use more down-to-earth, step-by-step process, helping you to discover why the problem occurred, what caused it and to take appropriate action to resolve it.
Solve Problems Easily and Effectively
Deep Trance Now Hypnosis CDs and mp3 downloads
» Hypnosis Newsletter and Free Downloads
If you want CDs, click on "add to cart" button.
If you want Instant mp3 Downloads,
click on the blue Instant Download link.

Solve Problems Easily and Effectively
Hypnosis
1 CD - $24.95
For INSTANT DOWNLOAD click here
Solve Problems Easily and Effectively
Hypnosis with Embedded Subliminal Track
1 CD - $29.95
Solve Problems Easily and Effectively
Hypnosis with Embedded Supraliminal Track
1 CD - $34.95
Solve Problems Easily and Effectively
Subliminal with Audible Intro Suggestions
1 CD - $14.95
For INSTANT DOWNLOAD click here
Solve Problems Easily and Effectively
Daytime Silent Subliminal
1 CD - $14.95
Solve Problems Easily and Effectively
Nighttime Silent Subliminal Sleep Programming
1 CD - $14.95
For INSTANT DOWNLOAD click here
Solve Problems Easily and Effectively
Supraliminal with Audible Intro Suggestions
1 CD - $19.95
For INSTANT DOWNLOAD click here
Solve Problems Easily and Effectively
Daytime Silent Supraliminal
1 CD - $19.95
Solve Problems Easily and Effectively
Nighttime Silent Supraliminal Sleep Programming
1 CD - $19.95
For INSTANT DOWNLOAD click here
Solve Problems Easily and Effectively
Empowering Affirmations
1 CD - $17.95
Solve Problems Easily and Effectively
Empowering Affirmations with Embedded Subliminal Track
1 CD - $22.95
Solve Problems Easily and Effectively
Empowering Affirmations with Embedded Subliminal and Supraliminal Tracks
1 CD - $27.95
Solve Problems Easily and Effectively
Supraliminal Plus
1 CD - $24.95
For INSTANT DOWNLOAD click here
Solve Problems Easily and Effectively
Hypnosis + Subliminal
2 CDs - $29.95
For INSTANT DOWNLOAD click here
Solve Problems Easily and Effectively
Hypnosis + Supraliminal
2 CDs - $34.95
For INSTANT DOWNLOAD click here
Solve Problems Easily and Effectively
Hypnosis + Supraliminal Plus
2 CDs - $39.95
For INSTANT DOWNLOAD click here
Solve Problems Easily and Effectively
Hypnosis + Subliminal + Supraliminal Plus
3 CDs - $49.95
For INSTANT DOWNLOAD click here
Solve Problems Easily and Effectively
Hypnosis + Supraliminal + Supraliminal Plus
3 CDs - $54.95
For INSTANT DOWNLOAD click here
Solve Problems Easily and Effectively
Hypnosis + Subliminal + Supraliminal + Supraliminal Plus
4 CDs - $64.95
Solve Problems Easily and Effectively
Hypnosis + Empowering Affirmations + Subliminal + Supraliminal + Supraliminal Plus
5 CDs - $79.95
Solve Problems Easily and Effectively
Hypnosis + Empowering Affirmations + Subliminal + Supraliminal + Supraliminal Plus + Brainwave Entrainment
6 CDs - $89.95
Solve Problems Easily and Effectively
Hypnosis + Empowering Affirmations + Subliminal + Supraliminal + Supraliminal Plus + Sanskrit Mantras
6 CDs - $89.95
Solve Problems Easily and Effectively
Hypnosis + Empowering Affirmations + Subliminal + Supraliminal + Supraliminal Plus + Sanskrit Mantras + Brainwave Entrainment
7 CDs - $108.00