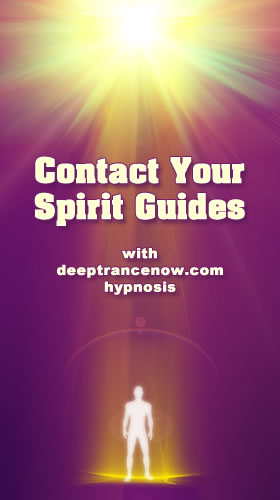 Perhaps you've had experiences when you've felt the presence or heard a voice of your spirit guides, at times when you needed assistance and weren't quite sure what to do in your life, at times when you needed to be comforted, or at times when you were ready for spiritual instruction or simply needed a reminder to return to your spiritual path, when you wandered off too far into the material world that you forgot why you were here.
Or perhaps you didn't have any such conscious experiences yet and now you find yourself in a situation where you could benefit from receiving spiritual guidance, comfort and wisdom where to continue on your path now.
Contact Your Spirit Guides CDs and mp3s can help you to establish conscious contact with your guides, to become more open to and aware of the spiritual guidance and the more you appreciate the help and guidance that you receive, the stronger will your connection to and awareness of the spirit world grow, and the easier will it be for you to manoeuver through the challenges you meet on your life, knowing that you are never alone, and that help is always as close to you as your next thought.
Contact Your Spirit Guides
Deep Trance Now Hypnosis CDs and mp3 downloads
» Hypnosis Newsletter and Free Downloads
If you want CDs, click on "add to cart" button.
If you want Instant Downloads,
click on the blue Instant Download link.

Contact Your Spirit Guides
Hypnosis
1 CD - $24.95
For INSTANT DOWNLOAD click here
Contact Your Spirit Guides
Hypnosis with Embedded Subliminal Track
1 CD - $29.95
Contact Your Spirit Guides
Hypnosis with Embedded Supraliminal Track
1 CD - $34.95
For INSTANT DOWNLOAD click here
Contact Your Spirit Guides
Subliminal with Audible Intro Suggestions
1 CD - $14.95
For INSTANT DOWNLOAD click here
Contact Your Spirit Guides
Daytime Silent Subliminal
1 CD - $14.95
Contact Your Spirit Guides
Nighttime Silent Subliminal Sleep Programming
1 CD - $14.95
For INSTANT DOWNLOAD click here
Contact Your Spirit Guides
Supraliminal with Audible Intro Suggestions
1 CD - $19.95
For INSTANT DOWNLOAD click here
Contact Your Spirit Guides
Daytime Silent Supraliminal
1 CD - $19.95
Contact Your Spirit Guides
Nighttime Silent Supraliminal Sleep Programming
1 CD - $19.95
For INSTANT DOWNLOAD click here
Contact Your Spirit Guides
Empowering Affirmations
1 CD - $17.95
For INSTANT DOWNLOAD click here
Contact Your Spirit Guides
Empowering Affirmations with Embedded Subliminal Track
1 CD - $22.95
For INSTANT DOWNLOAD click here
Contact Your Spirit Guides
Empowering Affirmations with Embedded Subliminal and Supraliminal Tracks
1 CD - $27.95
For INSTANT DOWNLOAD click here
Contact Your Spirit Guides
Supraliminal Plus
1 CD - $24.95
For INSTANT DOWNLOAD click here
Contact Your Spirit Guides
Hypnosis + Subliminal
2 CDs - $29.95
Contact Your Spirit Guides
Hypnosis + Supraliminal
2 CDs - $34.95
Contact Your Spirit Guides
Hypnosis + Supraliminal Plus
2 CDs - $39.95
Contact Your Spirit Guides
Hypnosis + Subliminal + Supraliminal Plus
3 CDs - $49.95
For INSTANT DOWNLOAD click here
Contact Your Spirit Guides
Hypnosis + Supraliminal + Supraliminal Plus
3 CDs - $54.95
For INSTANT DOWNLOAD click here
Contact Your Spirit Guides
Hypnosis + Subliminal + Supraliminal + Supraliminal Plus
4 CDs - $64.95
Contact Your Spirit Guides
Hypnosis + Empowering Affirmations + Subliminal + Supraliminal + Supraliminal Plus
5 CDs - $79.95
For INSTANT DOWNLOAD click here