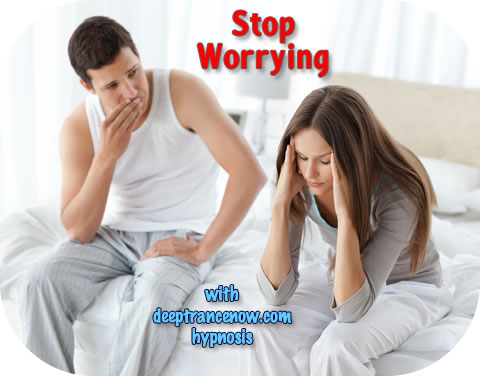 If you're like most people, your worry about all kinds of things ... sometimes about relationships, sometimes about financial issues, sometimes about health, or what will your future bring. Sometimes those worries creep into your dreams and haunt you even while you're sleeping. Sometimes they make it almost impossible to fall asleep or they may wake you up in the middle of the night.
Take Mark, for example. When he was a student, he felt anxious because of forthcoming exams. Sometimes, before exams he'd wake up in the middle of the night panic-filled gasping for air. In time he didn't worry only about the exams, which came and passed, but began worrying whether he'll make it through the night.
This worry now made it hard for him to fall asleep. He found it challenging to just let go and enjoy the rest, and consequently he felt tired throughout the day.
Mark got a job as a salesman working on commission. The lack of sleep made it hard for him to concentrate on his work. This in turn made it challenging for him to give full attention to his customers and to make money, as now he was also worried about how he'll get money to pay the bills.
Constant worry in time seriously affected his health. Mark developed an ulcer and began suffering from high blood pressure. He was on a never-ending downward spiral until eventually he decided to look into self-hypnosis and the techniques he could use to stop worrying and restore peace of mind.
In time as he learned how to restore mental peace, he began to take control over different aspects of his life. He was able to enjoy deep and restful sleep and consequently his health and financial situation improved.
Since you are reading this page, odds are that you are already experiencing negative effects that worry has on your life.
Stop Worrying CDs and mp3s are designed to help you restore peace of mind, and then find constructive solutions to the challenges you're facing.
Stop Worrying Hypnosis CD or mp3 guides you through different effective techniques that will help you stop worrying.
Stop Worrying subliminal, supraliminal, supraliminal plus and affirmations CDs and mp3s contain empowering suggestions designed to reinforce the techniques presented on the Stop Worrying hypnosis CD
Stop Worrying CDs and mp3s also contain empowering suggestions to help you feel safe and protected, to access the wise guidance of your deeper mind, to experience inner peace and look upon the brighter side of life.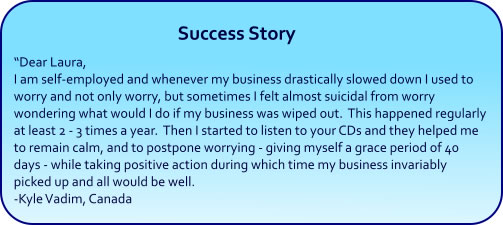 Stop Worrying
Deep Trance Now Hypnosis CDs and mp3 downloads
» Hypnosis Newsletter and Free Downloads
If you want CDs, click on "add to cart" button.
If you want Instant mp3 Downloads,
click on the blue Instant Download link.