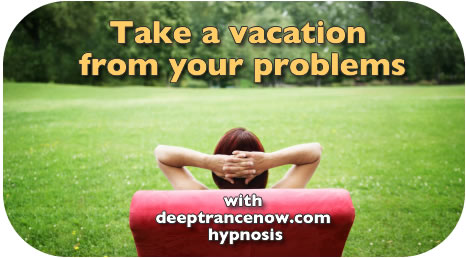 While stress is a part of our daily lives and a little bit of stress may actually stimulate us to take action and improve our lives, a lot of stress may be hazardous to our mental, emotional and physical health.
There are many events in life that can cause stress.
Long hours, difficult co-workers, and lack of appreciation are just a few factors that contribute to job stress.
Students face many pressures from school, which can amount to a significant amount of stress. Some of the factors that contribute to stress are test anxiety, from mismatch with teachers, peer pressure, bullies, to name just a few.
Money problems can be a major source of stress and conflict.
The people in our lives can be our greatest source of comfort and sometimes a significant cause of stress. Feeling lonely can be a source of stress as well as dealing with difficult people.
Good vs. bad stress
Some stress can be good. Stress hormones are necessary for successfully dealing with challenges in our lives, for peak experiences, for top level performance, and for maximum productivity. They can push you to accomplish things, but sooner or later a time comes to take a break, to relax and let your mind and body recharge. If you don't take a break when your mind and body are screaming for a break and you keep on pushing yourself.

Hypnosis and stress
"In a study of medical students under exam-time stress, investigators found that those who received "hypnotic relaxation training" did not show the same reduction in key immune system components that their untrained counterparts did. the researchers looked at 33 medical and dental students during exam time, the self-hypnosis students launched stronger immune responses compared with students who did not learn the relaxation technique. The more often students practiced the self-hypnosis strategy, the stronger their immune response." - Journal of Consulting and Clinical Psychology 2001;69
Take the Free Stress Test
Add the "point values" (in brackets), for any event that you may have been involved in the past 12 months.
Death of spouse (100)
Divorce (73)
Separation (65)
Jail Term (63)
Death of close family member (63)
Personal injury or illness (53)
Marriage (50)
Fired from job (47)
Reconciliation (45)
Retirement (45)
Change of health of family member (44)
Pregnancy (40)
Difference in frequency of sexual relationships (39)
New family member (39)
Business readjustment (39)
Change in financial state (38)
Death of a close friend (37)
Change in line of work (36)
Change in number of arguments with spouse (35)
Foreclosed mortgage or loan (30)
Change in work responsibility (29)
Son or daughter leaving home (29)
In-law trouble (29)
Outstanding achievement (28)
Wife beginning or ending work (26)
Beginning or ending school (26)
Change in living conditions (25)
Revision in personal habits (24)
Trouble with boss (23)
Change in work hours or conditions (20)
Change in residence (20)
Change in school (20)
Change in recreation (19)
Change in church activities (19)
Change in social activities (18)
Mortgage or loan less than $10,000 (17)
Change of sleep habits (16)
Change in number of family get-togethers (15)
Change in eating habits (15)
Vacation (13)
Christmas (12)
Minor violations of the law (11)
Check Your Results
Those individuals with a total score greater than 300 have a 90% chance of developing a significant illness or health change. A score of 150 presents a 50% chance of a similar situation occurring. Note that the research does not predict a specific disease; but represents the probability of disease or significant health change occurring. (Ref: Homes and Rohe. "J. Psychosom Res. - 1967").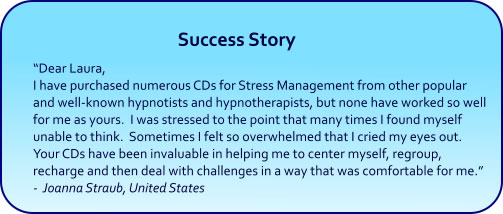 Stress Relief
Deep Trance Now Hypnosis CDs and mp3 downloads
How will specific event affect us will depend a great deal on how we interpret it. Different people undergoing the same stressful event will react to it differently and will be affected by the event according to how they interpret it.
The purpose of Stress Relief hypnosis CD is to help you alter your interpretation of the stressors as well as take you on a mental vacation away from the stressors, giving you an opportunity to "put yourself together" so you can deal with your challenges more effectively.
Subliminal, supraliminal and supraliminal plus Stress Relief CDs contain direct suggestions and while they can be very effective on their own, for best results, I recommend that you also work with hypnosis recording.
At times when you just want to take a mental vacation not only from the outer stresses, but also from any verbal suggestions, you can allow yourself to surrender totally to brainwave entrainment recording, which contains no suggestions, and is designed to entrain your brainwaves and gently lead you out of stressful state of mind to a state of relaxation, allowing you to recharge yourself for new victories in your life.
» Hypnosis Newsletter and Free Downloads
Stress Relief Hypnosis with Brainwave Entrainment Demo
If you want CDs, click on "add to cart" button.
If you want Instant mp3 Downloads,
click on the blue Instant Download link.

Stress Relief
Hypnosis
1 CD - $24.95
For INSTANT DOWNLOAD click here
Stress Relief
Hypnosis with Embedded Subliminal Track
1 CD - $29.95
Stress Relief
Hypnosis with Embedded Supraliminal Track
1 CD - $34.95
For INSTANT DOWNLOAD click here
Stress Relief
Subliminal with Audible Intro Suggestions
1 CD - $14.95
For INSTANT DOWNLOAD click here
Stress Relief
Daytime Silent Subliminal
1 CD - $14.95
Stress Relief
Nighttime Silent Subliminal Sleep Programming
1 CD - $14.95
For INSTANT DOWNLOAD click here
Stress Relief
Supraliminal with Audible Intro Suggestions
1 CD - $19.95
For INSTANT DOWNLOAD click here
Stress Relief
Daytime Silent Supraliminal
1 CD - $19.95
For INSTANT DOWNLOAD click here
Stress Relief
Nighttime Silent Supraliminal Sleep Programming
1 CD - $19.95
For INSTANT DOWNLOAD click here
Stress Relief
Empowering Affirmations
1 CD - $17.95
Stress Relief
Empowering Affirmations with Embedded Subliminal Track
1 CD - $22.95
Stress Relief
Empowering Affirmations with Embedded Subliminal and Supraliminal Tracks
1 CD - $27.95
Stress Relief
Supraliminal Plus
1 CD - $24.95
For INSTANT DOWNLOAD click here
Stress Relief
Brainwave Entrainment
1 CD - $24.95
Stress Relief
Sanskrit Mantras
1 CD - $24.95
Stress Relief
Hypnosis + Subliminal
2 CDs - $29.95
For INSTANT DOWNLOAD click here
Stress Relief
Hypnosis + Supraliminal
2 CDs - $34.95
For INSTANT DOWNLOAD click here
Stress Relief
Hypnosis + Supraliminal Plus
2 CDs - $39.95
For INSTANT DOWNLOAD click here
Stress Relief
Hypnosis + Subliminal + Supraliminal Plus
3 CDs - $49.95
For INSTANT DOWNLOAD click here
Stress Relief
Hypnosis + Supraliminal + Supraliminal Plus
3 CDs - $54.95
For INSTANT DOWNLOAD click here
Stress Relief
Hypnosis + Subliminal + Supraliminal + Supraliminal Plus
4 CDs - $64.95
Stress Relief
Hypnosis + Empowering Affirmations + Subliminal + Supraliminal + Supraliminal Plus
5 CDs - $79.95
Stress Relief
Hypnosis + Empowering Affirmations + Subliminal + Supraliminal + Supraliminal Plus + Brainwave Entrainment
6 CDs - $89.95
Stress Relief
Hypnosis + Empowering Affirmations + Subliminal + Supraliminal + Supraliminal Plus + Sanskrit Mantras
6 CDs - $89.95
Stress Relief
Hypnosis + Empowering Affirmations + Subliminal + Supraliminal + Supraliminal Plus + Sanskrit Mantras + Brainwave Entrainment
7 CDs - $108.00
Hypnotherapy Script for Stress Relief
for professional hypnotherapists
$12.95