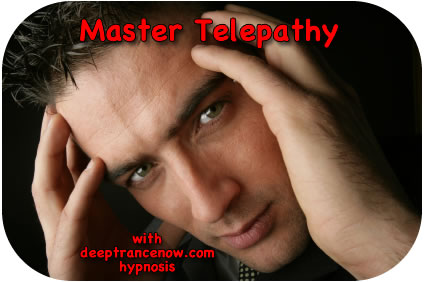 Telepathy is an ability you may have already experienced at one time or another spontaneously. Perhaps you found yourself saying the same thing as someone with whom you were in sync, or perhaps you were thinking of a person one moment and the next moment the phone rang and the person phoned you, or the person was at your door.
Telepathy happens because we are all inter-connected by one mind and our individual minds are individualized centers of consciousness of that one mind. We all have telepathic abilities, however some people may be more aware of it, some may have more of a natural talent, and some may have developed it to a greater extent through practice.
Telepathy hypnosis CD helps you to develop your telepathic ability. It guides you through the process of sending the message to another person, as well as through the process of receiving the message. The fastest way to make progress is by taking a light-hearted approach and having fun experimenting.
Telepathy subliminal, supraliminal and supraliminal plus CDs contain direct suggestion designed to be impressed directly upon your subconscious mind. While telepathy subliminal, supraliminal and supraliminal plus recordings may work well even on their own, for best results you should use them in conjunction with Telepathy hypnosis CD, because Telepathy hypnosis CD will guide you through the process which will enable you to unfold your telepathic ability.
Telepathy
Deep Trance Now Hypnosis CDs and mp3 downloads
» Hypnosis Newsletter and Free Downloads
If you want CDs, click on "add to cart" button.
If you want Instant mp3 Downloads,
click on the blue Instant Download link.