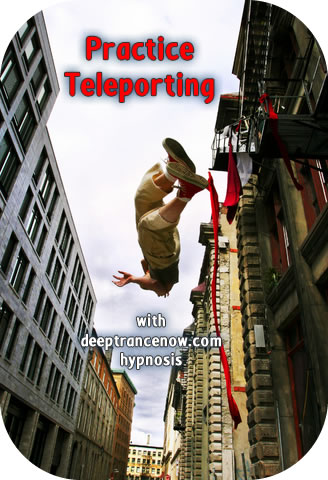 "To fly as fast as thought, to anywhere that is,'' he said, "you must begin by knowing that you have already arrived ...'' - Jonathan Livingston Seagull by Richard Bach
The ability to teleport sometimes emerges spontaneously as a result of other mind-training practice or out of intense (subconscious) desire to be in a particular place, as in the following story:
Zhang Baosheng worked as a security officer whose job was to ride the bus and catch thieves. He was intuitive - able to sense as well as observe the movements of the thieves. one day, while he was on duty, an image opened in his mind, like a TV screen. The image was of a hand going into a man's pocket, and slowly taking out a wad of cash. He caught many thieves and his fame began to spread.
While working on the bus, he met a girlfriend, Xiao Yuan and they began dating seriously. One day he saw a young lady walking in high-heel shoes. Zhang Baosheng thought how his girlfriend would look nice in such shoes. Even though he couldn't afford to buy them on his small salary, he decided to to go a shoe store just to take a look.
He saw a pair of shoes that he really liked and he thought and thought and thought about them. As he was leaving the store, he noticed that his bag became heavier. He looked inside, and to his great surprise, he saw that the shoes he liked were in the bag. Confused with what happened he stepped out the door, but just then the store attendant yelled "Grab him".
According to the story in the book China's Super Psychics, by Paul Dong, Zhang was then arrested, and within a short period of time discovered that he can just as effortlessly teleport his body.
Zhang Baosheng, born in 1958, was one of the most famous qigong Grandmasters during the period of qigong's immense popularity in the People's Republic of China. Along with Yan Xin,he played a key role in bringing the body technologies of qigong practice, and the supernatural abilities that can be putatively developed through it, into the Chinese public consciousness.
Some years ago when I was in Mexico, I visited a small village and there lived a very old shaman. It was said that he was about 106 years old at a time, and villagers believed that he could transform himself into a bird because he could be on one end of Mexico or somewhere else if called to help within minutes. A friend of mine and I, figured that the old shaman developed the ability to teleport, rather than that he was changing into a bird. Even though the man was only using his abilities to be of service and to help others, and the villagers would visit him when they needed help, they also avoided him at other times, unsure of what he might do with the powers he had developed if he were not too happy with them. That man, like most other people who are immersed in meditation, esoteric and spiritual pursuits lived a solitary life.
India is one of the countries where at least some people spend their lives in wholehearted pursuit of spiritual understanding and a handful develop amazing abilities. There is a saying in India that whoever would wholeheartedly engage in spiritual practice would definitely grow in spiritual power. Teleportation is one of those abilities which in most people seems to appear as a spontaneous side-effect of wholehearted opening of one's consciousness toward that which is eternal, timeless, divine, and limitless.
Deep Trance Now Teleportation program is best suited for people who have previous experience working with consciousness and energy. However, the technique is very simple and if the idea of teleport at ion stirs your imagination, by all means go for it and have fun with it.
You may also like Develop Faith hypnosis CDs and mp3s.
Practice Teleporting Subliminal Affirmations
Deep Trance Now Hypnosis CDs and mp3 downloads
» Hypnosis Newsletter and Free Downloads
Practice Teleporting Demo
If you want CDs, click on "add to cart" button.
If you want Instant mp3 Downloads,
click on the blue Instant Download link.