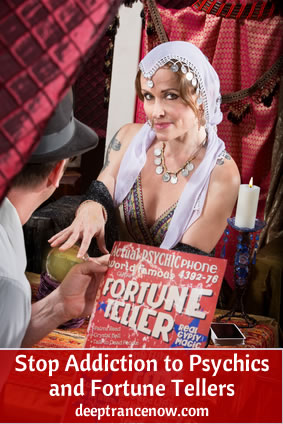 You had a problem. You were looking for a solution. You were curious to see if a psychic or a fortune teller could help you. Some of what they told you was generic, some seemed more specific. Sometimes they told you what you wanted to hear. Sometimes they hit or hinted on truth.
The hits worked just the same as they do in gambling. You got a rush, it felt good and you wanted to experience it again. And with every miss, you felt you were getting closer to another hit.
You hoped that the information you get would make your life easier, until you discovered that you were digging yourself into a financial hole and that it became harder and harder to quit, because you still needed the information that would make your life easier.
It is comforting when you know what future holds or at least what is the best thing you should do in any situation. You do have an inner comforter and a source of wisdom that is far more suitable to give you guidance than psychics and fortune-tellers.
Some religions and holy scriptures forbid consulting fortune tellers because when you consult fortune-tellers you are giving away your power - the power of your indwelling spirit to create a rich, happy and fulfilling life, and the power you have to overcome any challenge that comes your way and you're letting someone or something else decide your destiny.
When you give your power away, you are also opening yourself up, willingly, to influences of all kinds of invisible forces that may not have your best interests at heart, but rather may attach to you and create emotional havoc in your life so that they can feed on your energy, and while the psychics and fortune tellers may feed on the constant flow of avalanches of money they get from you, you may also serve as a tasty meal to hungry ghosts who may feed on your life force.
If you have found yourself in a situation where you are getting constantly drained both financially and emotionally, now may be a good time to find a better way to meet your needs.
The recordings on this page are designed to replace psychics and fortune tellers with the spiritual resources that are right within you and that you were meant to use and rely on so that you can live a rich, happy and fulfilling life.
Stop Addiction to Psychics and Fortune Tellers
Deep Trance Now Hypnosis CDs and mp3 downloads
» Hypnosis Newsletter and Free Downloads
If you want CDs, click on "add to cart" button.
If you want Instant mp3 Downloads,
click on the blue Instant Download link.

Stop Addiction to Psychics and Fortune Tellers
Hypnosis
1 CD - $24.95

Stop Addiction to Psychics and Fortune Tellers
Hypnosis with Embedded Subliminal Track
1 CD - $29.95
Stop Addiction to Psychics and Fortune Tellers
Hypnosis with Embedded Supraliminal Track
1 CD - $34.95
Stop Addiction to Psychics and Fortune Tellers
Subliminal with Audible Intro Suggestions
1 CD - $14.95
For INSTANT DOWNLOAD click here
Stop Addiction to Psychics and Fortune Tellers
Daytime Silent Subliminal
1 CD - $14.95
For INSTANT DOWNLOAD click here
Stop Addiction to Psychics and Fortune Tellers
Nighttime Silent Subliminal Sleep Programming
1 CD - $14.95
For INSTANT DOWNLOAD click here
Stop Addiction to Psychics and Fortune Tellers
Supraliminal with Audible Intro Suggestions
1 CD - $19.95
For INSTANT DOWNLOAD click here
Stop Addiction to Psychics and Fortune Tellers
Daytime Silent Supraliminal
1 CD - $19.95
Stop Addiction to Psychics and Fortune Tellers
Nighttime Silent Supraliminal Sleep Programming
1 CD - $19.95
For INSTANT DOWNLOAD click here
Stop Addiction to Psychics and Fortune Tellers
Empowering Affirmations
1 CD - $17.95
Stop Addiction to Psychics and Fortune Tellers
Empowering Affirmations with Embedded Subliminal Track
1 CD - $22.95
Stop Addiction to Psychics and Fortune Tellers
Empowering Affirmations with Embedded Subliminal and Supraliminal Tracks
1 CD - $27.95

Stop Addiction to Psychics and Fortune Tellers
Supraliminal Plus
1 CD - $24.95
For INSTANT DOWNLOAD click here
Stop Addiction to Psychics and Fortune Tellers
Hypnosis + Subliminal
2 CDs - $29.95
Stop Addiction to Psychics and Fortune Tellers
Hypnosis + Supraliminal
2 CDs - $34.95
Stop Addiction to Psychics and Fortune Tellers
Hypnosis + Supraliminal Plus
2 CDs - $39.95
Stop Addiction to Psychics and Fortune Tellers
Hypnosis + Subliminal + Supraliminal Plus
3 CDs - $49.95
Stop Addiction to Psychics and Fortune Tellers
Hypnosis + Supraliminal + Supraliminal Plus
3 CDs - $54.95
Stop Addiction to Psychics and Fortune Tellers
Hypnosis + Subliminal + Supraliminal + Supraliminal Plus
4 CDs - $64.95
Stop Addiction to Psychics and Fortune Tellers
Hypnosis + Empowering Affirmations + Subliminal + Supraliminal + Supraliminal Plus
5 CDs - $79.95