Affiliate Program
Already an Affiliate?
» Click here to check your stats
» Click here if you need help with Deep Trance Now Affiliate program.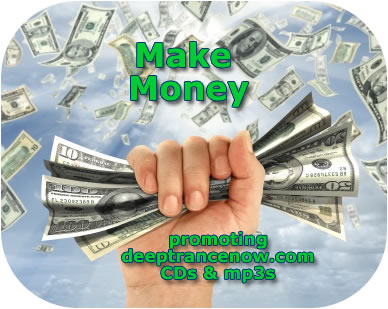 Become an Affiliate Today
Join deeptrancenow.com and earn commissions with every sale that comes through a link or banner you post on your website, to your newsletter subscribers, in an article or posting you write in newsgroups, in e-mail recommendations to your friends and colleagues.
You can choose from few thousand hypnosis, affirmations, subliminal, supraliminal, supraliminal plus, brainwave entrainment and Sanskrit mantra recordings in different languages - in the area of healing, sexuality, creating abundance, enhancing personal performance, personal and spiritual growth, and overcoming numerous obstacles.
It's Quick and Easy to Become a Deep Trance Now Affiliate!
Read and accept our Agreement Form
Fill out a short Sign-Up Form.
Select a banner for your site and paste the banner code to high traffic area of your website, newsletter, article, or posting.
We take care of everything else. Every time someone clicks on your unique link, you get a check for the 25% commission on their entire purchase. That means that for each $100 of products sold to customers referred by you, you'll get $25 commission. The more customers you refer to us, the more money you can make.
Please note: You will NOT be paid any commissions for products you purchase for yourself.
Since many of our customers are repeat buyers, when they buy another product within 360 days, you'll get another commission from that same customer!
The sooner you begin referring customers to our website, the sooner will you begin to make money, so go ahead and