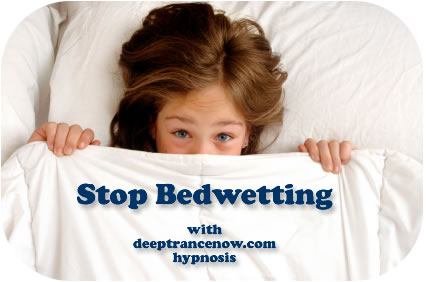 Soggy sheets and pajamas, and an embarrassed child, are a familiar scene in many homes. But don't despair. Bed-wetting isn't a sign of toilet training gone bad. It's often just a developmental stage.
Bed-wetting is also known as nighttime incontinence or nocturnal enuresis. Bed-wetting is a common childhood condition. It occurs when there is an involuntary loss of urine during sleep. Bed-wetting is normal in children who are under 5 - 7 years old. Sometimes it affects older children and young adults.
Bed-wetting is often caused by an overactive bladder, but it can be the result of problems with the development of the bladder. it can also be due to a neurological disorder.
There are two types of bed-wetting: persistent, involuntary bed-wetting during sleep and bed-wetting that comes back afrter a dry period of at least six months. This second type is often linked to some stressful event in the life of the child.
Stop Bed-Wetting hypnosis, subliminal, supralminal, and supraliminal plus CDs and mp3s are designed to help children or adults gain control over their bodily functions and sleep and wake up in a dry bed. Children may prefer listening to subliminal recording, whereas for older children or adults it is recommended that they also work with Bed-Wetting hypnosis recording for best results.
Stop Bed-Wetting Deep Trance Now Hypnosis Programs
» Hypnosis Newsletter and Free Downloads
If you want CDs, click on "add to cart" button.
If you want Instant mp3 Downloads,
click on the blue Instant Download link.